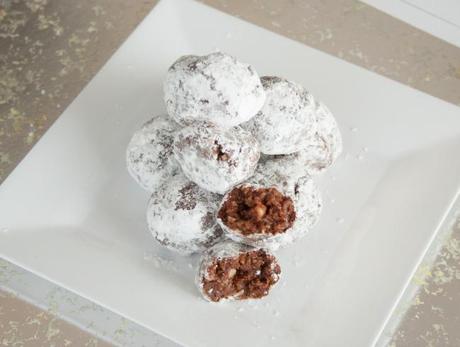 This recipe has been in our family for probably well over 100 years. I love this recipe, it reminds me of Christmas. When I was a young girl my Great Aunt Mary, my father's maternal aunt, would always make these potent little gems every December. I remember they appearing in our kitchen, wrapped in waxed paper and stored in a Christmas tin. Always a tin. You would pry that metal box open and be struck in the face with the most fragrant treat imaginable. My father would joke that one could get high simply off the scent of these bourbon and rum balls. For in our family you never made them with just bourbon, oh no, you simply must include rum into the mix to get just the proper flavor.
My mother, who used to work for C&P Telephone would always make these for her office party. Sparing no expense, she made these with the best bourbon and rum she could find. No wonder her officemates requested these each year.
These are super simple no-bake cookies. You can use any sort of wafer cookie you prefer, but in our family you have to use pecans. My great aunt was a real Southern woman who never came downstairs without her pearls and red lipstick just so, and she insisted on pecans in her bourbon balls. Not to be disrespectful of the walnut, which holds it's own place of honor on our Christmas table nestled nicely inside our Kolachi and Nut Bread, but to make these perfect bourbon balls, please refrain from any other nut but the pecan.
I hope these can decorate your Christmas table or at least make the ultimate homemade gift for a well loved friend. Enjoy and Merry Christmas!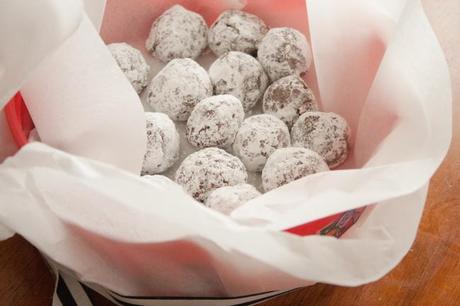 Bourbon Balls
2 1/4 Cups vanilla wafer cookie crumbs
1 Cup finely chopped pecans
1/4 Cup bourbon
1/4 Cup rum
1 Cup powdered sugar + extra for dredging
3 Tablespoons cocoa
2 Tablespoons corn syrup (I use organic)
Method
Combine crumbs and pecans in a large bowl.
Place all other ingredients in a bowl and beat thoroughly with electric mixer until well combined.
Pour mixture over dry ingredients and blend well.
Roll into balls 1 inch in diameter and dredge in powered sugar.
Store in a closed container with layers separated by parchment paper.