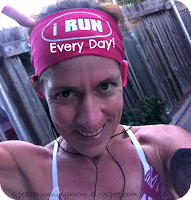 I hope you all had a blessed
Thanksgiving
. As much as I was tempted to get online and write a blog post wishing you well, I was more drawn to time with my family, cherishing a holiday, and celebrating a milestone in my life. Yesterday marked day 700 of my running streak. How awesome is it that this milestone fell on Thanksgiving? I ran outside and truly felt thankful for each running step I have taken and will continue to take.
Running every day is what I do and even though sometimes it may drive dear hubby a bit crazy with my "
obsession
" it is a very real part of me. It is one of my secrets to be a happier, healthier mom and person. My other secret -
daily gratitude.
And yes, that may drive dear hubby equally crazy as I point out the blessings in our lives.
Running daily takes care of my body and soul. Daily gratitude takes care of my mind and soul. Both are so important to me and I am not saying I don't feel down, overwhelmed, or frustrated but with my two tools in my tool kit, I am better prepared to overcome those feelings and find the joy in life. It works for me. It makes me happy. And I strongly feel it sets a good example for darling daughter who graciously took this picture for me while telling me to smile bigger, no bigger, bigger Mommy!
Is that big enough?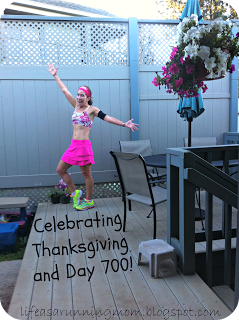 Yesterday I refused to not be happy and to not celebrate Thanksgiving. I was determined for the day to not be just another day and I had a bit of an uphill challenge with darling daughter being sick. Fortunately she is on the mend but yesterday she wasn't 100% and I wanted to continue building those wonderful Thanksgiving memories that I hold dear to my heart.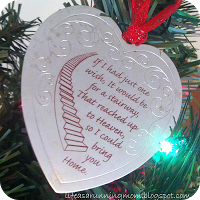 I alway cry hanging this for my Dad
Yesterday I missed my family and Dad tremendously. I would have done anything to be able to untangle
Christmas
lights or figure out what color the tip on the branches the artificial tree was so we could put it together right. Yes, I grew up with an artificial tree and as I got older, the colors got paler, but it was fun. It was a tradition. I loved it. In fact, I still love it.
And yes, our house got decorated with Christmas cheer and it brought huge smiles to darling daughter's face. She was completely into it and somehow convinced dear hubby that yes, we could decorate. And she got him to fluff our artificial tree some and even put an ornament or two on. Don't get me wrong, he isn't a Scrooge, it is just that it is traditionally the girls that do the decorating in our house.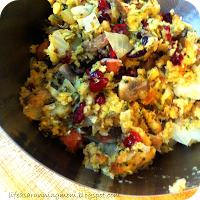 Stuffing
In terms of feasting, we enjoyed a wonderful
turkey
dinner, which I aimed to make as healthy as possible. Besides the turkey we had butternut squash roasted with apples, cinnamon, and nutmeg, stuffing made with mushrooms, onion, sausage, potatoes, craisins, sunflower seeds, and homemade chicken broth
(okay, that may have been a bit indulgent but I am proud of it)
, steamed brussels sprouts, homemade cranberry-blueberry sauce, and a cinn-ful apple cake
(which dear hubby calls healthy and perhaps healthier than other desserts with all the apples inside but there is still some sugar in there)
.
Daily Gratitude: I am thankful for the warm sun.
Daily Affirmation: My heart is full of love and I have plenty to share.