Hey there, fashion lovers! Today I'm showing you what I wore a few months ago. I was feelin' the goth vibe with my freshly dyed blue hair and new black lipgloss. I love this black velvet dress and decided I would create an outfit including all of those things. I kept the makeup neutral to compensate for the darkness of the lips, and adapted the outfit to be great for fall.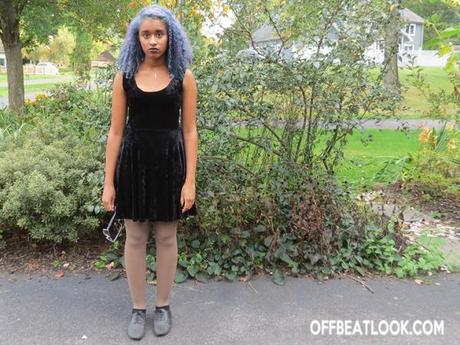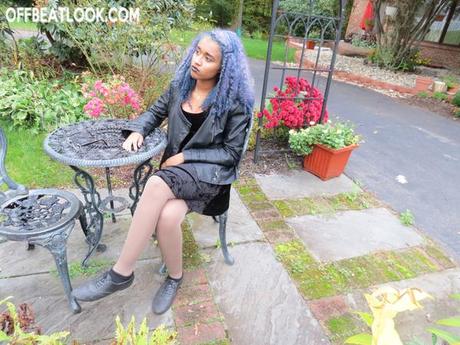 Here are a list of the clothing pieces, shoes, and accessories I wore in this outfit. I try my best to link to the original, but a lot of the time it's not possible, so I look for other items that are very similar if you are interested in some of the pieces or want to find places that sell clothing like this so you can browse the other items that they sell.

-Velvet Dress – Black [Forever 21 | Similar Item Here]
-Leather Jacket – Black [Macy's (?) | Similar Item Here]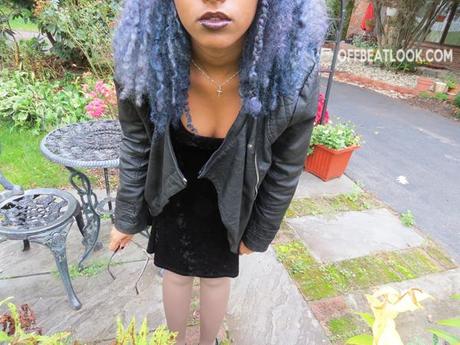 -Stockings – Nude [Similar Item Here]

-Oxford Flats – Leather [Target | Similar Item Here]

-Cross Necklace– Silver [Macy's | Similar Item Here]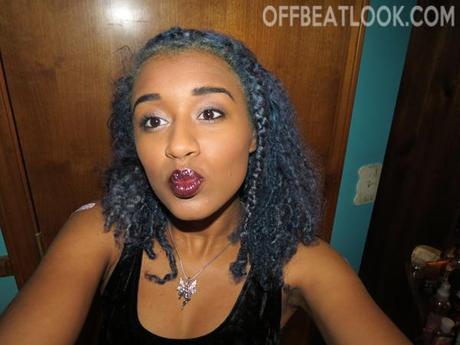 I hope you liked this outfit. It was one of those outfits that when I wore it I felt like a total boss. There are some outfits that can really do that for you, ya know? You look great, so you feel great. This one made me feel fierce like I should just burst open the school doors and walk into it in slow motion with the song "I'm a Boss Ass Bitch" blaring and pushing kids out of my way while everyone else slowly turns and stares at me.
Alright, that's ridiculous, but it did make me feel pretty cool. Do you guys ever have an outfit like that where you feel great wearing it? If so, comment down below and describe your outfit!