I was provided with gopicnic products, all opinions are my own.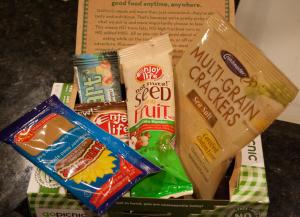 A few months ago I was in the airport on my way to Austin. I knew I would need a snack so I stopped at one of the convenience stores in the airport. I didn't want candy, although that is about all they had. But as I looked around a bit I found this little box that seemed to have a small meal inside. It was gopicnic. I liked it immediately since it not only looked delicious but it also contained some protein. I selected the Salami and Cheese variety. Once on board the plane I decided to open my gopicnic and was really pleased by its contents. The salami and Asiago cheese were accompanied by Olive Oil and Sea Salt Crackers, a trail mix of sorts and I have to say, the most delicious little chocolate filled "pillows". Those were truly heaven.
When my friend and I got to Austin we stopped in a local store and were surprised to find even more gopicnic varieties. That is when I noticed they also carried Gluten Free options! I recently had a chance to try the Sunbutter and Crackers gopicnic. Well, I say I got to try it, but really my son, Nico got to try it. He wanted to try just about everything in the box. He really enjoyed the crackers, fruit peel apart, seed and nut trail mix and of course the cookie. He was not a huge fan of the sunbutter, but I think it is an acquired taste. I am looking forward to trying the Hummus and Crackers gopicnic that I haven't shown the boys! It will be my little treat one afternoon.
I was really impressed with the wide variety gopicnic offers, including Kosher, Vegan and All-Natural meals. My friend, who was on the trip with me, wants to grab a few gopicnic's to bring to her niece's school when they go on field trips. Truly they were perfect for my flight and I wouldn't hesitate to pack them the next time I travel.