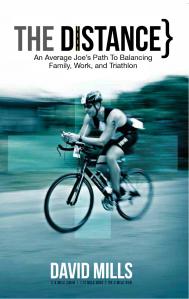 One thing I love about the running community is meeting people who have experienced it all, and are willing to share advice, stories, and the like. My guest blogger today, David Mills, shares from his new book, The Distance. It is his personal story about how he trained for an IronMan Triathlon. It's a great story, and I am sure that after you read this post, you'll want to read more!

THE BIG QUESTION, CHAPTER ONE OF THE DISTANCE BY DAVID MILLS
THE BIG QUESTION
"In any moment of decision, the best thing you can do is the right thing, the next best thing is the wrong thing, and the worst thing you can do is nothing." — Theodore Roosevelt
   "Could I do that?"
That was the phrase that I could not get out of my head as I stood in Madison, Wisconsin in 2006. It was raining as I stood there watching the finishers cross the finish line. It was my first ever experience with an Ironman and I was cheering on two of my friends from Omaha, Nebraska. They were, in my opinion, crazy. In fact, I couldn't imagine that I actually even knew someone attempting an Ironman. It had never even so much as crossed my mind that one day I might be the one in the race. I stood on the water's edge completely in awe as I heard the cannon fire and watched over 2,000 people start the swim at 7 o'clock that morning. The energy in the air was almost tangible. The atmosphere was electric. There was more human emotion in the air than I'd ever witnessed before at any sporting event. The rest of the day only got more intense.
   If you've never before watched an Ironman in person, you are missing out on the most exciting sport in existence. (This is a proven scientific fact and in no way an exaggeration). As the night gets later and the midnight cutoff approaches, the tension peaks.. Standing at the finish line in Madison, I watched as hundreds of folks poured across the finish line in a steady stream that went on for hours. Some of them did cartwheels. Some cheered. Some cried. There were those who limped, those who sprinted and those who puked. Some looked elated and others looked half-dead. I could not look away. These people had been swimming, biking, and running for nearly seventeen hours. The professionals that won had long since showered, eaten dinner and gone to bed. But for the Average Joe's still out there on the course, the day was still far from over. I watched dumbfounded as fit twenty-something's failed to finish in time, as senior citizens completed the race, and as wives, husbands, and children hugged and cheered with their family members as the announcer proclaimed, "You are an Ironman!" It was fantastic. It was the greatest show on earth and it didn't even charge the spectators for admission.
   It set the bar high for sporting events, and ever since I've been unable to care about the World Series or the Super Bowl, all of which are now mere smoke and lights with silly half time shows and seventh inning stretches. No one blacks out, pukes, or crawls to the finish line. All I see is million-dollar deals, commercial breaks, and timeouts. These are not sports. These are just games. I had been spoiled by what I'd seen; I had become infected with the Ironman bug. As I watched the show of human emotion spill itself over the finish line, I heard the question in the back of my mind, and asked myself for the first time:
   "Could I do that?"
At first I dismissed the question entirely. There were plenty of distractions in my life, such as family and work, that I could use to help silence that haunting question. These were noble distractions. Certainly no one would think less of me for focusing on family and work instead of chasing an endurance event that is certifiably beyond all reason or good sense.
   For billions of fortunate people in the world, that seems to be sufficient. They are able to move on and live their lives and forget about the question, or maybe they are blissfully unaware that the question even exists. "Could I do that?" Unfortunately, I was not in that blissful majority that remains immune to the Ironman fever and its haunting, infectious question. "Could I do that?" I was, unfortunately, in the very small minority that must (for better or worse) have that question answered.
This is an excerpt from the upcoming book The Distance:  An Average Joe's Path to Balancing Family Work & Triathlon by David Mills.  To pre-order your copy of The Distance go to www.TheDistanceBook.com or follow David on Twitter @AverageIronman.