Today is Ash Wednesday, the first day of Lent. Lent is a time to honor the sacrifice of Christ, to reflect on the passion of the cross, and to prepare our minds, hearts, and spirits to truly celebrate the resurrection of Jesus. It lasts 40 days, not including Sundays. It is a period of fasting and hopefully prayer. It is more of a solemn time and this Lent I am giving up social media.
Why?
Because it truly does tug at my limited time and can lead to the increase of more sinful feelings of jealousy, envy, or pride at times. Those likes and the pull of comparison can tug on everyone in various degrees. Some days I can be more resilient but other days, not so much.
I stay connected primarily due to family and my wonderful Catholic connections but I do want to wean myself of this and to spend the next 40+ days in prayer. Prayer for my family. Prayer for my friends. Prayer for myself.
This is a tough season for me. Not because of Lent but February is my "hard month". My Dad's birthday is February 22 and March 31 marks the 8th anniversary of his death after a heartbreaking battle with cancer. Leukemia to be exact. On top of that, a wonderful man that I truly loved as a second dad and mentor just died this February 10 after battling brain cancer. Fortunately February 10 is also my daughter's birthday - she turned 10! - so I can see joy in the suffering. It seems there is a lot God has for me to focus and reflect on this Lent.
But I do have a slight concern. Traditionally I post in remembrance of my Dad on February 22 and March 31. I have prayed and prayed on this and how it impacts my Lenten fast. I did get a sense that a post on those two days would be acceptable, if,
and only if
, I could resist all temptation to read other posts, notifications, or get distracted and engage. I am not too sure I can do that. Seriously, do you think you could log onto facebook, drop a post, and not scroll? Yeah, me neither.
I want to honor my Dad and remember him so perhaps I can just do so with this blog post, which was written and scheduled prior to the beginning of Lent.
My Dad was an amazing man. My hero. A really cool and fun dude!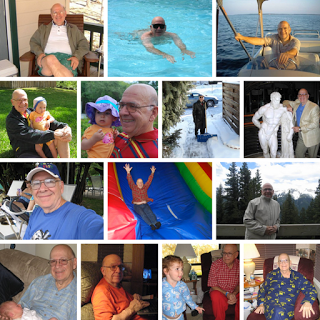 The last 2 photos are from the last times I saw him.
I wish I had some magical and inspirational words to say that can erase the suffering of grief but all I can say is I am thankful my Dad, and my friend, are no longer suffering the pains of cancer on Earth. The cancer robbed them of so much of their zeal for life. The essence of who they were still remained but you could see the toll of the devastating illness on them. That is something I would wish on no one. 
Great men seem to be few and far between. Perhaps it is because I have been hurt by so many, lied to by too many, scarred by some, belittled and insulted by others, or just used for their own personal desires or gain. At times it makes me wonder if good men still exist today. Men who will stand up to honor and protect women. Open the door for them. Build them up with encouraging words of support and accept them for who they are. Are not threatened by women and what women can offer to the world.
And then I realize, two such men existed in my life and count myself abundantly blessed. Two men who never said a hurtful, unkind word to me and seemed to genuinely accept me for who I am and encourage me to grow how I was supposed to grow. Thank you God for placing these men in my life.

Daily Gratitude: I am thankful for my daughter and her shining bright light during this time of sorrow.
Daily Bible Verse: For I consider that the sufferings of this present time are not worth comparing with the glory that is to be revealed to us. ~ Romans 8:18