I often order gnocchi with meat sauce when we go out for Italian but I so rarely make it a home. In fact, I think this is the first time I have ever made meat sauce from scratch!
I get a lot of my recipe inspiration from Everyday Food, there is always a ton of variety and relative easy weeknight meals. I came across a recipe for gnocchi with homemade meat sauce and something about it screamed comfort food. This makes enough for the gnocchi and a good sized container to freeze. We will definitely be enjoying the leftovers when we get back from Thailand!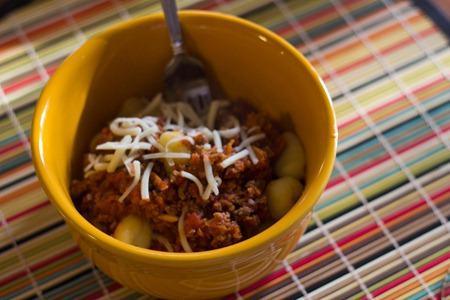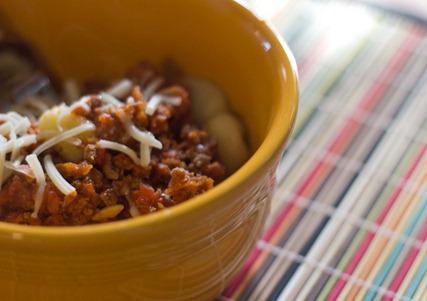 Gnocchi with Meat Sauce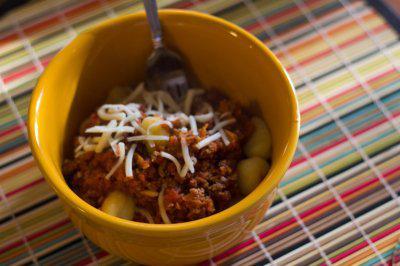 Prep Time: 15 Minutes
Cook Time: 30 Minutes
6031446
Ingredients (Serves 4)
2 tbsp olive oil
2 pounds ground beef (90-93% lean)
1 yellow onion, finely diced
4 carrots, shredded with a grater
3 cloves garlic, finely diced
2 28 ounce cans whole peeled tomatoes, broken up with a blender or immersion blender
1 tbsp Greek or Italian seasoning mix
1 pound gnocchi, cooked according to package directions
1/4 cup shredded mozzarella cheese to top the gnocchi and meat sauce
Instructions
In a large stockpot heat olive oil over medium heat.
Add meat and break it up with a spoon until cooked through, about 5 minutes.
Add onion, carrots, and garlic. Cook until softened, about 5 minutes.
Add salt/pepper and tomatoes, bring to a simmer. Cover and cook 15-20 minutes, or until liquid is slightly reduced.
Stir in Italian or Greek Seasoning and more salt/pepper if needed.
Top gnocchi with meat sauce and mozzarella.
Powered by
Recipage