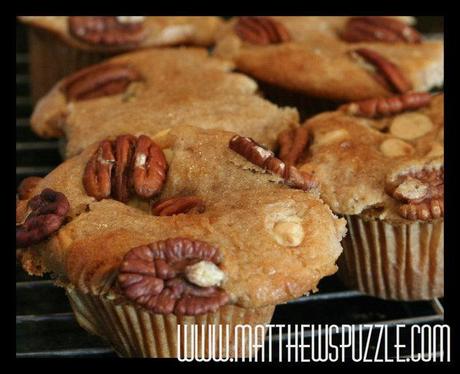 I sort of fell into these gluten free pumpkin spice muffins. The other day the boys got home from school and it just turned into one of those days. You know the kind I'm talking about, where everything you do seems to be wrong. That was what happened with dinner. My steak was still frozen so I needed to go to plan B, also known as Breakfast for dinner. The boys requested pancakes so I quickly grabbed our King Arthur Gluten Free Flour and whipped up my Gluten Free Pancake batter. My husband was frying up the bacon and the whole house was in a whirlwind. I poured the pancake batter and waited for it to bubble, but when I went to flip the pancakes over they wouldn't flip. They just sort of folded in the middle, and they got all gooey. I tried another one. It did the same thing. That is when it dawned on me to look at the box. Yep, I had not picked up the Gluten Free Flour, I had picked up the King Arthur Flour Muffin Mix, Gluten Free, 16-Ounce (Pack of 3)! So I grabbed the muffin pan, added the rest of the mix and made muffins instead. These are light, beautiful muffins that the kids just love. They are a family favorite now.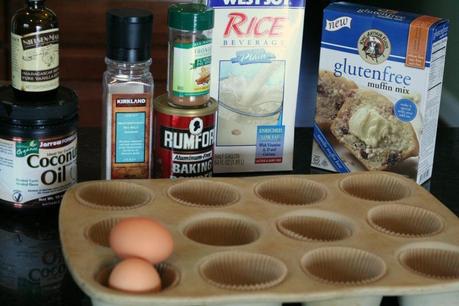 Gluten Free Pumpkin Spice Muffins Print
Recipe type:
Breakfast
Author:
Matthew's Puzzle
Prep time:
10 mins
Cook time:
22 mins
Total time:
32 mins
Serves:
12
Gluten Free (and dairy free) muffins inspired by pumpkin spiced pancakes
Ingredients
1 Box King Arthur Gluten Free Muffin Mix
1 1/2 Cups milk of choice, rice, hemp, almond, cows
3 Tbs coconu oil, melted – can substitute butter if not dairy free
2 eggs
1 teaspoon gluten free vanilla
1/2 teaspoon salt
2 teaspoons aluminum free baking powder
2 teaspoons pumpkin pie spice
pecan halves
white chocolate chips (optional – These are NOT dairy free)
Instructions
Preheat oven per Muffin Mix directions.
In a large mixing container, mix the wet ingredients.
Add the dry ingredients except the pecans and white chocolate chips.
Line muffin pan with papers.
Pour muffin mix into lined muffin pan.
Top with pecan halves and white chocolate chips if using.
Bake per Muffin Mix directions or until toothpick inserted into center comes out clean.
Muffins may require additional cooking time.
Remove from oven and allow to cool in muffin pan.
Once cool, remove from pan and serve.
WordPress Recipe Plugin and Microformatting by

EasyRecipe
2.2.8