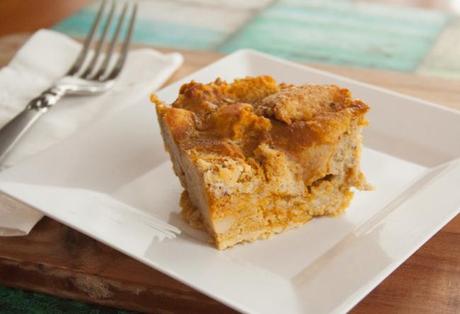 I love making this gluten free pumpkin bake for holiday mornings. There is nothing better than serving up something warm and delicious after watching your children open their Christmas presents. The beauty of this gluten free pumpkin bake is not only is it simple to make, but it is convenient too. You prepare the bake the night before because the bread must absorb all the custard ingredients, then Christmas morning you simply preheat the oven and pop it in for 50 minutes while everyone enjoys playing with all the great toys Santa has brought them.
Since my boys get up so darn early, every morning, I actually have successfully made this during the work week and baked it off in the morning. They love it. It is perfect to serve with sausage or bacon.
Gluten Free Pumpkin Bake
6 gluten free hamburger buns
6 eggs
3 cups milk of choice
1/2 teaspoon pumpkin pie seasoning
1/2 cup maple syrup
16 oz pureed pumpkin
Method
Cut the hamburger buns into roughly one inch pieces. Layer the hamburger bun pieces in a large baking dish. In a large bowl, whisk the eggs and then add the milk, pumpkin pie spices and maple syrup. Spread the pumpkin puree over the hamburger bun pieces then pour the milk and egg mixture over everything. You may wish to gently swirl the pumpkin into the milk and egg mixture, but don't over mix it. Cover and refrigerate over night. When ready to bake, preheat the over to 350 degree and bake uncovered for 50 to 55 minutes. If you find it is browning too much, simply cover. Bake is done when a knife is inserted into the center and it comes out clean. You can serve immediately or allow to cool a bit. If you let it cool some it will set up and you will be able to cut it into squares.