For this past Easter I decided to make a gluten free carrot cake. I adore a moist cake and carrot cakes never fail to provide a delicious end to any meal. My favorite carrot cake is full of coconut, pineapple, walnuts and cinnamon. I wanted to recreate that with a gluten free cake, so I of course opted to use King Arthur Gluten Free Flour. To me, this makes the best cakes. We have found that if we take very simple precautions our cake will stay moist and delicious for days, unlike most other cakes made with someone else's flour blends.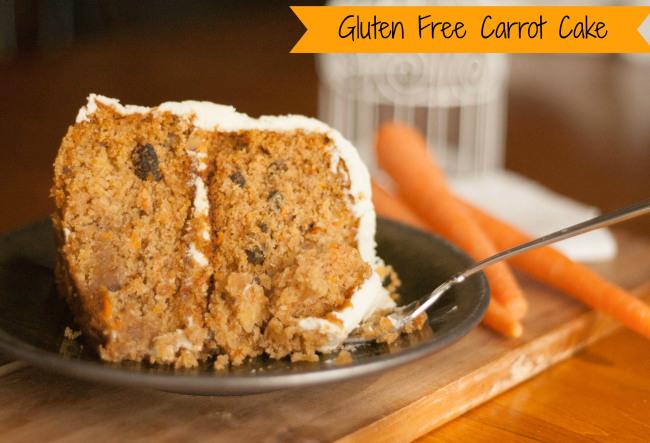 5.0

from

1

reviews
Print
Gluten Free Carrot Cake Recipe Author: 
Matthew's Puzzle
Recipe type: 
Dessert
Prep time:  15 mins Cook time:  1 hour Total time:  1 hour 15 mins   Ingredients
3 cups King Arthur gluten free flour mix
1½ teaspoons xanthan gum
1 tablespoon baking powder
2 teaspoons baking soda
1 teaspoon salt
2 teaspoons cinnamon
½ teaspoon nutmeg
2 cups granulated sugar
1½ cups vegetable oil
4 large eggs
2 teaspoons vanilla extract
2 cups grated peeled carrots
1 can crushed pineapple, drained
1 cup chopped walnuts
1 cup shredded unsweetened coconut
Instructions
Preheat oven to 350 degrees
Butter two 8-inch round cake pans and cut parchment paper rounds to fit the bottom of pans.
Butter the parchment rounds and set pans aside.
In a separate bowl combine gluten-free flour mix, xanthan gum, baking powder, baking soda, salt, cinnamon, and nutmeg.
To the bowl of your mixer add sugar, oil, eggs and vanilla, and beat until creamy.
Add ⅓ of the flour mixture, and combine.
Repeat until all flour mixture has been combines and beat at medium-low speed for 1 minute.
Fold in carrots, pineapple ,walnuts, and coconut with a spatula.
Mixture will be very thick.
Divide mixture evenly between the two cake pans.
Bake for 45 to 50 minutes.
Do not over bake as cake can become dry.
Remove from oven when toothpick inserted into center of cake comes out clean.
Allow cakes to cool in pans for 10 minutes, then invert onto cooling rack.
Cool cakes completely before frosting with cream cheese frosting.
WordPress Recipe Plugin by

EasyRecipe
3.2.1230