Hey everyone! Today I'm going to show you how I used loose glitter on my nails to do this cute and easy glittery nail design. It's quite simple, but it's really pretty and fancy.
I would wear these nails to any fancy occasion you have coming up, or just for fun. I used gold glitter because it went well with the cream nail polish color, but feel free to use whatever colors you want.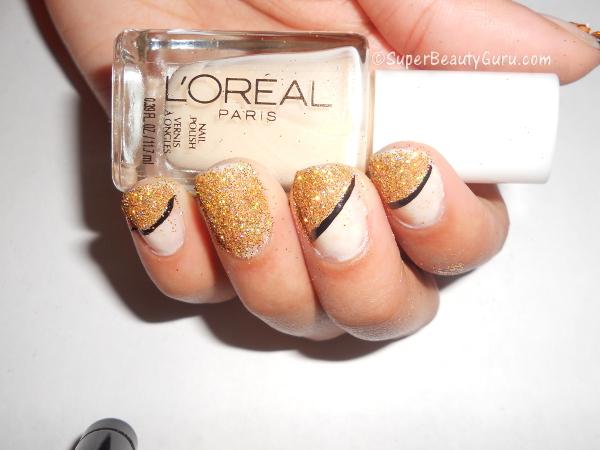 Here are all the Steps and Products I used:
If you liked this nail look, you will love my YouTube channel with nail videos, so check it out:
Subscribe to my Fashion and Beauty YouTube Channel!
Steps
1) Apply a base coat to protect your nails.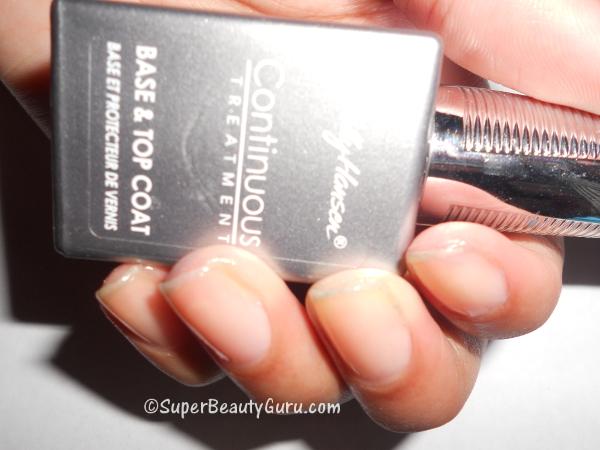 2) Paint your nails with any desired color. I chose this shimmery white color that looks great with the gold glitter.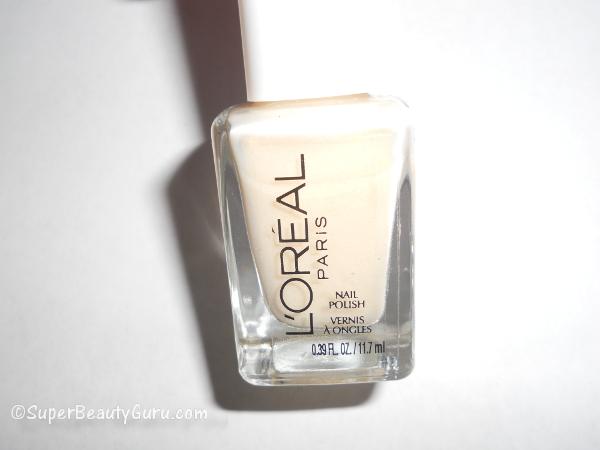 3) Once that layer is dry, paint a triangle, or whatever shape you want the glitter in, on your nails with a clear nail polish. This will be tack enough for the glitter to stick to it, and adhere to your nails.
4) Once you know the shape you want, sprinkle the glitter on top of the wet nail, and get it all over the area you want glittered.
5) Press the glitter lightly into your nail so it stays on. You don't necessarily need a topcoat for this if you like the texture, although that would help it stay on better, but if you don't plan on adding a topcoat, then make sure you press the glitter in to your nail.
6) Add some black lines with a nail striper or nail polish/paint along the edge of the glitter to hide the sloppy edge and make it look cooler.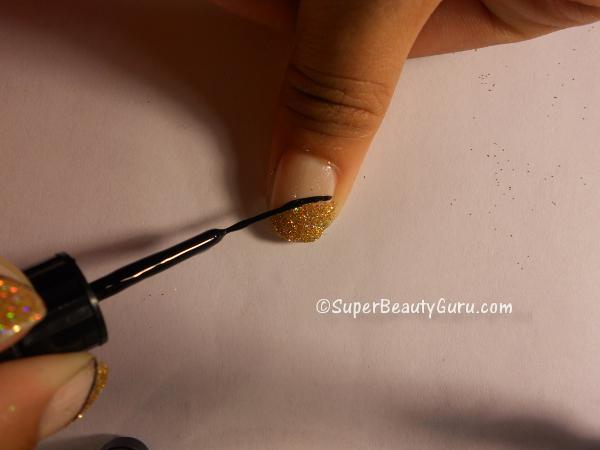 7) If you want, you can put some gold rhinestones along your nail like I did, but that's optional.
8) Apply a clear topcoat, and you're done! I used a glittery gold topcoat for one hand just to see how it looked, so you could go either way.
Now your nails are glittery like a disco ball and you're ready to go WORK them!! Go on with your bad self, gurl! Haha I'm kidding, but hopefully they turned out well. If they did, tweet me a picture so I can see what they look like!
Products Used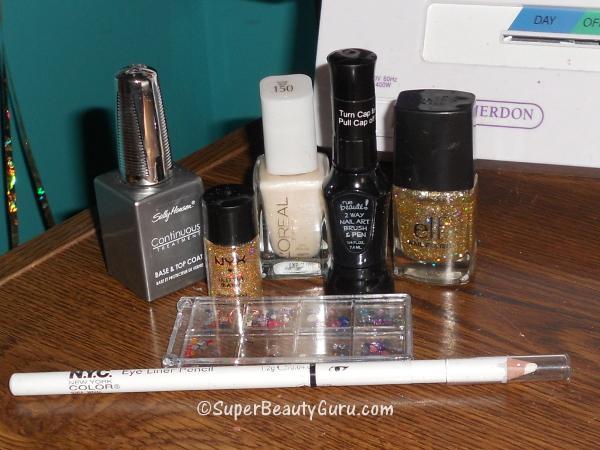 -Sally Hansen Continuous Treatment Base and Top Coat – Clear
-L'Oreal Paris Nail Polish – In the Buff (buy here)
-E.L.F. Nail Polish – Golden Goddess (
buy here
)
-NYX Loose Glitter – Hot Gold (buy here)
Nail Gallery
Glitterrrr!!! Let's go!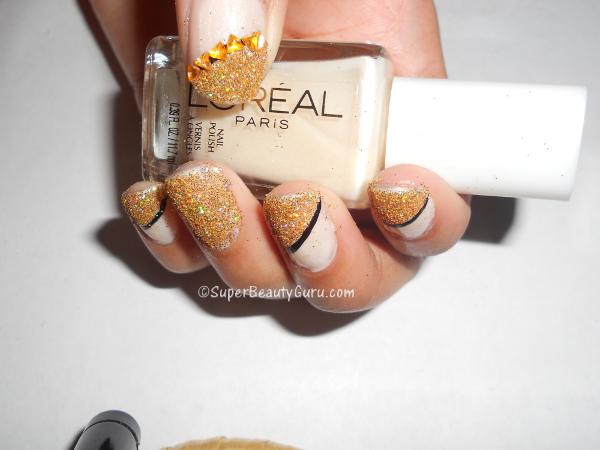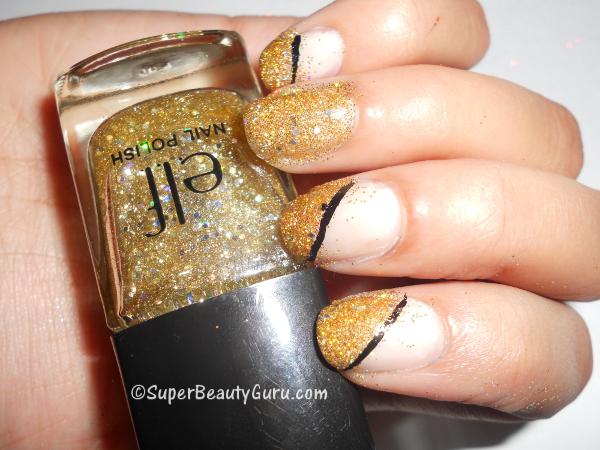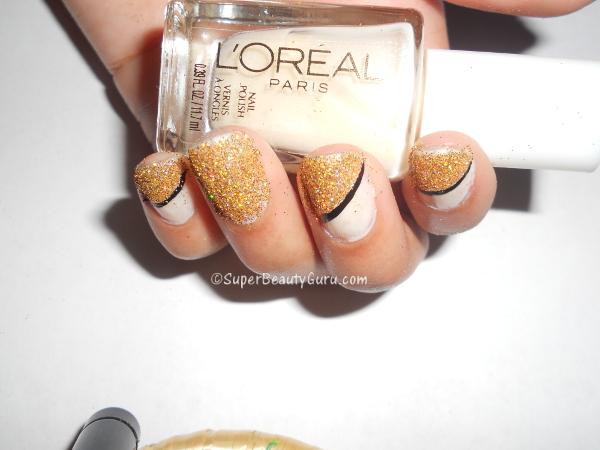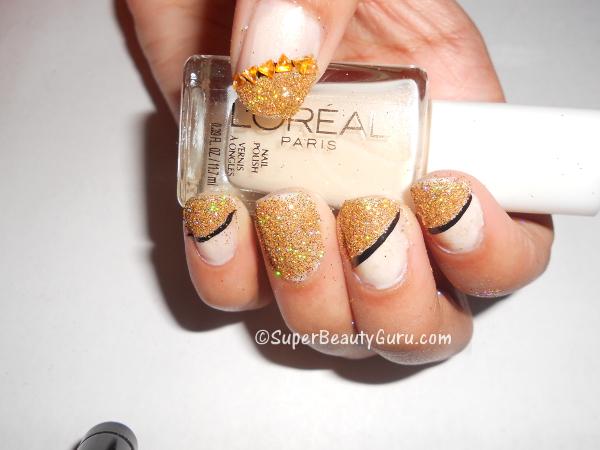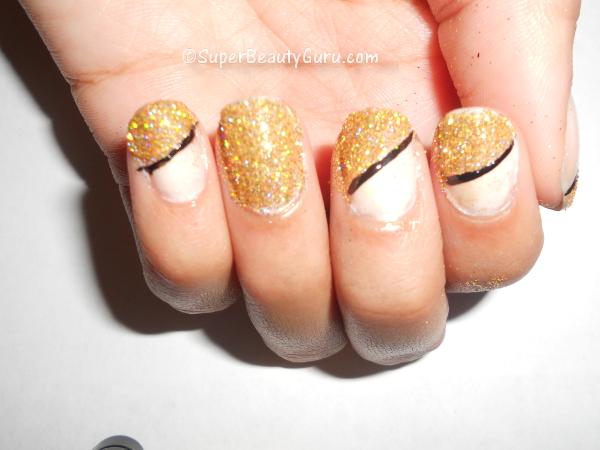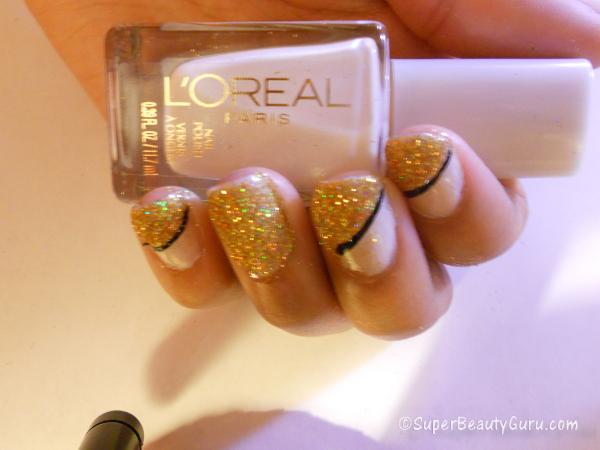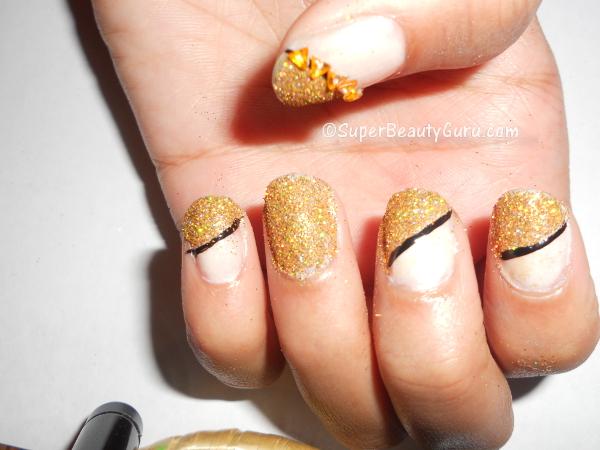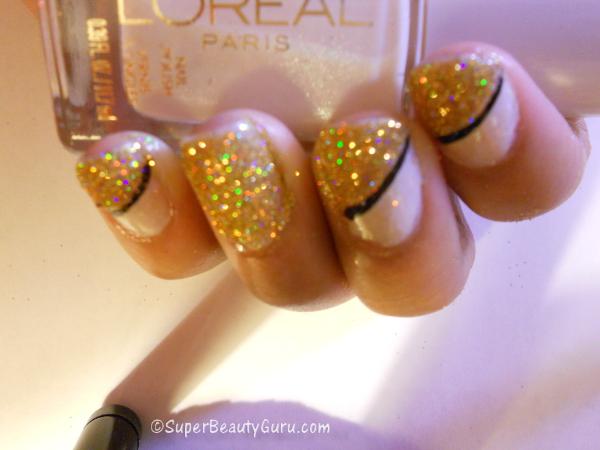 Thanks for stopping by! Please subscribe to my blog if you like it! xoxo Amber C Johnson from Super Beauty Guru <3