We have been using Giovanni Brand products for years now. I think we first tired them when we were looking for natural hair care products. I really love their Direct Leave-In Conditioner which is great for curly hair that needs a little boost of moisture before going out into the world. Larry uses their Giovanni LA Natural Styling Gel to fix his hair in the mornings and we even feel safe using that on the boys hair when theirs just isn't behaving. Now we use Giovanni D:tox too.
Giovanni D:tox Skin Care Line
Recently we looked into their skin care line. The Giovanni D:tox System contains a purifying facial cleanser, purifying facial scrub, replenishing facial moisturizer and a purifying facial mask. The most immediatly striking feature with the D:tox System is the color. They range from black to gray to white. The reason is the Activated Charcoal. The facial cleanser, facial scrub and facial mask all contain activated charcoal, which helps to absorb toxins and whisk them off the skin. But the best thing about the system is how beautiful my skin looks after using it.
Giovanni D:tox Purifying Facial Cleanser

photo provided by Giovanni Brand
The Giovanni D:tox Purifying Facial Cleanser is very gentle. It foams nicely and has a really pleasant scent. In addition to the activated charcoal it also contains volcanic ash and Super-Antioxidants: Acai and Goji Berry. I used it without makeup remover and it cleaned my face perfectly. It rinses away easily and leaves your face ready for either the facial scrub or the Replenishing Facial Moisturizer. Since I have sensitive skin that doesn't need exfoliating too often, I usually follow it up with the moisturizer on a day to day basis.
Giovanni D:tox Purifying Facial Scrub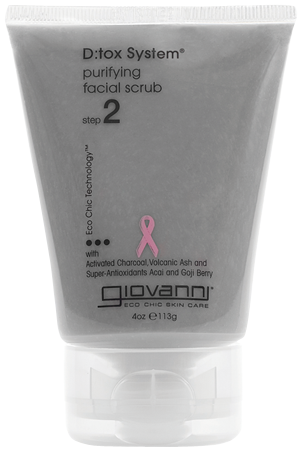 photo provided by Giovanni Brand
The D:tox Purifying Facial Scrub is FABULOUS!!! I think it may be my favorite product in the line. The scrub, like the cleanser, contains activated charcoal to absorb impurities and detoxify the skin, volcanic ash to dislodge impurities and Acai and Goji Berry. The particles in the scrub are very fine and do not "scratch" the skin. I keep ours in the shower and use it a few times a week to keep my skin from looking dull. The results are a smooth, buffed skin that looks radiant. Larry even uses it. We both found it to be very gentle.
Giovanni D:tox Replenishing Facial Moisturizer

photo provided by Giovanni Brand
Unlike the other Giovanni D:tox products the Replenishing Facial Moisturizer does not contain volcanic ash or activated charcoal, but it still holds the benefits of Acai and Goji Berries. I love this moisturizer. It is just the right consistency, neither too liquid nor too thick. Since using it I have noticed a nice glow to my skin and I use it after cleansing, both morning and night. I have only seen benefits since using this product, without any negatives that often come with heavier moisturizers like clogged bores or breakouts.
Giovanni D:tox Purifying Facial Mask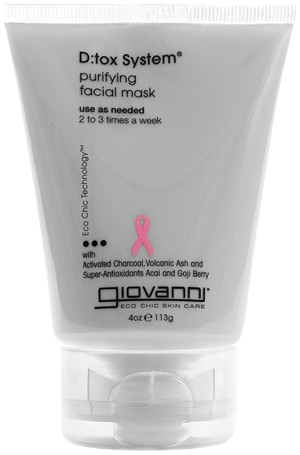 Photo provided by Giovanni Brand
Lastly, the Giovanni D:tox Purifying Facial Mask is really the "big gun" of the line. This product pulls deep impurities from the skin while it detoxifies. I found that it is so powerful that I only need to use this once a week to leave my skin looking amazing. I like to use it in the evening after the boys have gone to bed and my husband is watching football. I will fill our tub, put the mask on, and soak for a little while. When I wash it off I'm left with radiant skin.
I have to say that Giovanni is truly one of my favorite product lines out there. They offer a wide range of Hair, Body and Skin Care products AND they now come in travel sizes kits. I will be traveling to Autism One in Chicago this year and I want to take the Giovanni D:tox will travel kit with me. It is TSA compliant! All the autism recovery moms will love the fact that it utilizes activated charcoal, which happens to be a staple in autism biomedical homes as it absorbs toxins from the gut!
Giovanni D:tox Gets Social
Follow Giovanni on Twitter, Pinterest and Facebook to keep up with all their great products. For more information on Giovanni visit them at www.giovannicosmetics.com
I was given a complimentary set of Giovanni D:tox products to provide this review ~ but I have to tell you I really do like these products this much. All opinions are my own.