Food Fridays:
Being a part of the Go Go squeeZ squad team has many advantages including Go Go squeeZ at your fingertips! My daughter loves the stuff even though she want touch a whole apple or apple slice, but sometimes even the pickiest of eaters need a little extra push to eat food that is out of the norm.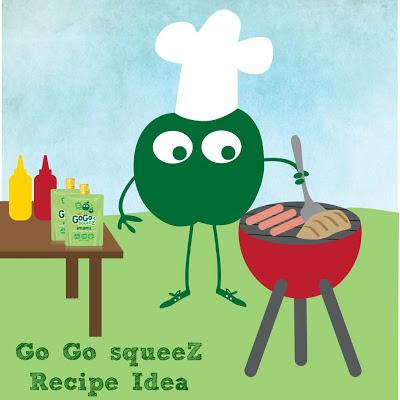 Last weekend I met a mom and daughter duo at Whole Foods and asked them if they wanted to try Go Go squeeZ. The mom confidently informed me her daughter doesn't like fruits or vegetables and wouldn't like it. I said, "well perhaps she could just take it to try and if she hated it she couldn't just bring it back and throw it in the trash."
They continued up the aisle and then a few minutes later made the loop to the other side. When she returned to the end of the aisle, the mom stopped me. "Wanna hear the good news?" she said. "That's the first apple my daughter has ever eaten - she loved it!" I looked down at her cart and saw four packages of Go Go squeeZ.
While I get a smile everytime I think about it, but I admit sometimes I like to mix it up! There's all kinds of ways to use Go Go squeeZ, one of favorites is in my hearty apple pie pancakes I made on Dallas Good Morning Texas and this healthier version of carrot cake bars!
Carrot Cake Bars
Prep time: 15 minutes
Cook time:

25-30 minutes
Ingredients
Nonstick Cooking Spray
2 cups whole wheat Flour
1 cup packed brown sugar
3/4 cup granulated sugar
2 teaspoons ground cinnamon
1 1/2 teaspoons baking powder
1 1/2 teaspoons baking soda
8 egg whites slightly
About 3 packagesGo Go squeeZ Apple Cinnamon or Apple Apple
1/2 cup cooking oil
3 cups finely shredded carrot
2 cups powdered sugar, sifted
8 ounces reduced-fat cream cheese
Instructions: 
Prehead the overn to 350 degrees. Grease a 15X10 inch pan with cooking spray.
In a large bowl, stir dry ingredients together: flour, brown sugar, granulated sugar, cinnamon, baking powder and baking soda.
In another bowl, stil together egg whites, Go Go squeeZ, and oil.
Mix both bowls of ingredients together and then stir in shredded carrots.
Spread batter in pan and bake 25-30 minutes. Cool completely.
For icicing, beat together sifted powedered sugar and cream cheese until smooth.
Spread frosting over cooled cake and slice!
Optional: To add a little more to this cake, you could add 1/2 coupts of chopped walnuts.