Me Mondays:
It's not that I don't like cleaning house…it's just that I don't have time to do it – and maybe I hate dishes, floors, bathrooms and well, I guess I do hate cleaning it.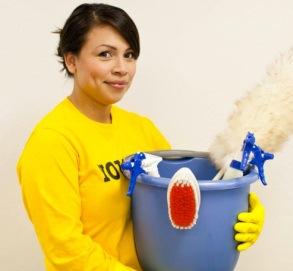 But as a mom you do what you have to for your family and your home. So you wash it, windex it, scrub it, mop it and whatever else comes your way. And normally without any appreciation or acknowledgement.
So when I got a special opportunity to have a new cleaning company in DFW

founded by two siblings named on Forbes list of "Top 30 Under 30"

come to my home and clean it, I was overjoyed.
Actually, I was Homejoy-ed.
In just five minutes I went online to HOMEJOY, provided some brief information about my house and then scheduled what day worked best for me. I was able to nag a spot only 48 hours away, so I was super stoked.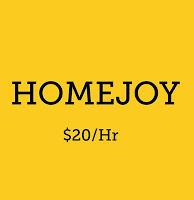 About 24 hours from my appointment, I received a text reminder about my appointment and the name of the representative who would be cleaning my home, so I could go online and actually see my rep's photo, background, etc.
The morning of my appointment my rep, Leslie, called me to let me know she was on her way. She then showed up right on time to clean my house in her yellow Homejoy shirt. She introduced herself and kept a big smile all day. Best of all, she did a great job!
Then about an hour after she completed the cleaning, I received a text asking me to rate my cleaning. Once again, simple and easy.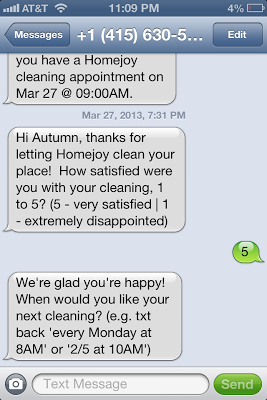 I was able to go online and take a look at my invoice and even book another appointment with just a few clicks. So quick, simple, and online – my preferred way to do things.
If you're a busy mom looking for a way to find more time in the day to get it all done, then learn one thing – you can't create more hours in the day. However, you can prioritize your time and delegate the stuff that can help you free up your day to do the things that only mom can do.
Make cleaning your home a joy with Homejoy by booking an appointment today!
###
DISCLAIMER: 
I received one or more of the mentioned products for the sole purpose of this review. No other compensating was given and all opinions expressed are 100 percent my own. (Accordance with FTC's 16 CFR Part 255, "Guides Concerning the Use of Endorsements and Testimonials in Advertising.")