Review of:
Garnier PureActive 3 in 1 Wash Scrub and Mask
Price:

£5.99

---

Reviewed by:

newwithhashtags

Rating:

2

On

January 22, 2014

Last modified:

January 21, 2014

---

Summary:
More Details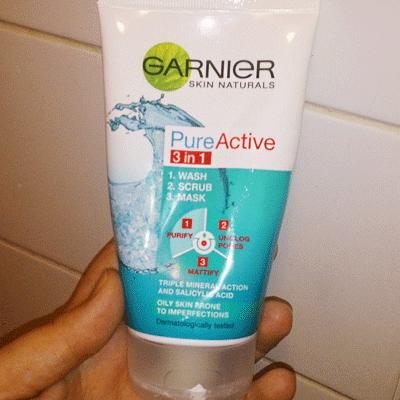 Garnier have a face wash, scrub and mask all in one handy tube. The PureActive 3 in 1 is a versatile cleanser which claims to e ideal for oily skin which is prone to imperfections.
The Garnier PureActive 3 in 1 will cleanse, purify and mattify skin, which is what attracted me to it. As someone with oily skin I need an exfoliator or scrub which will keep my skin looking fresh and matte for at least several hours, but this one doesn't quite cut the mustard.
Whilst the exfoliator does keep my skin oil-free for a couple of hours, unfortunately that's all it can do. Although the mask keeps the oil at bay for longer (and by mask, I mean applying the scrub and leaving it for a few minutes before rinsing), it isn't as effective as other scrubs I've tried, such as the Vichy Normaderm 3 in 1 exfoliator or the Lush Dark Angels.
I also found that it doesn't smell particularly pleasant, nor does it clear my pores well, which is disappointing. It also leaves my nose looking very shiny. However the microbeads do feel nice and they are good at removing dead skin cells, but that's the only positive thing I can say about this scrub. It doesn't work well, and it's not worth £5.99, in my opinion.