Happy Monday, everyone! I hope you had an amazing Thanksgiving and weekend.  I know I did.  I'm actually quite proud of myself because I did a lot of the cooking, including the turkey.  And yes, I am bragging just a little bit.  But enough about food.  I composed a short, fun list of cute gift ideas to get your sister, best friend, coworker, etc..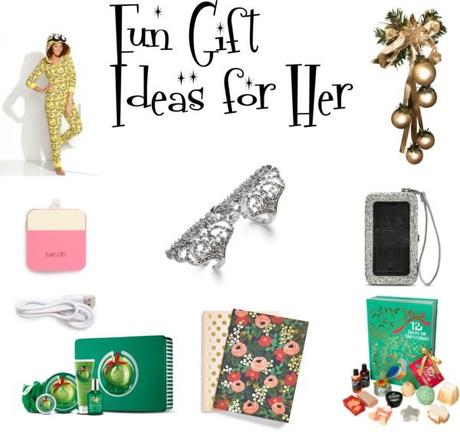 Fun Gift Ideas for Her by kristen-noel-williford featuring christmas home decor
1.) Briefly Stated Despicable Me Micro Fleece Hooded Jumpsuit $48 at Macy's
I HATE jumpsuits.  I just think a grown woman should not walk around wearing a glorified onesie.  I scoff and roll my eyes whenever I see one.  But there is always an exception to every rule.  I adore the Minions and something about this jumpsuit is adorable.  Needless to say, I would rock this in the comfort of my own home. This would be great for the kid at heart woman-child in your life.
2.) BAN.DO Back me Up iPhone Charger $30
This charger combines style and practicality for the chic techie in your life.  I know that I would love one of these. I've seen these on Nordstrom and Nasty Gal.
3.) 12 Days of Christmas set from Lush, $100
Yes, this is pricey.  But you get so many amazing Lush products! Plus, if need be, you could always turn it into multiple gifts.  I am a Lush fanatic, so trust me.  Whoever you give this to, will love you forever.  *Ahem*...all you men out there better be paying attention. Just saying.
4.) Glitter Cell Phone Case from Target, $13
This is something that I own and use frequently.  It saves me the hassle of carrying around a purse because I can toss my credit card, driver's license, cash, and phone all in one stylish case.  Plus what girl doesn't love a little sparkle around the Holidays? Not to mention that it is a budget friendly gift option.
5.) The Body Shop Glazed Apple Tin of Delights $45, The Body Shop
If the 12 Days of Christmas set is too much money, try this set from The Body Shop.  Their limited edition scent, Glazed Apple, is divine!  And their products are pretty great, too. This tin includes a lip balm, loofah, body butter, body scrub, and eau de toilette.
6.) Cute Notebooks
A girl always needs to jot down her thoughts and ideas.  And it is crucial that they fit in a bag. Now I know most people are all about using their phones to keep up with everything.  But I am more old school and there is something to be said about just jotting down your ideas.  There is an art to it.  These particular notebooks are $10 and can be found at Nordstrom~Rifle Paper Co. Pocket Notebooks
*currently they are sold out. =(

7.) Bar III Silver Tone Crystal Knuckle Ring $28, Macy's
Because what girl doesn't love a little bling? Or a lot, in this case.
Do you see anything that you would like?