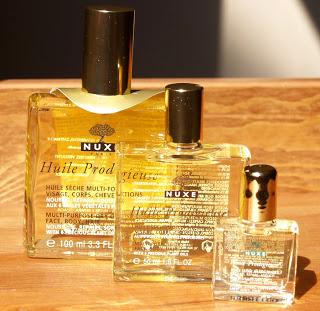 I've always hated the feel of oil on my skin. Seriously, can't stand it. Every time I try to even use an overly rich moisturizer that leaves oily residue I end up washing it off within half an hour. So to say I was skeptical about the whole 'dry oil' concept is an undersatement.
For those of you who haven't heard of this fascinating product, it's an oil that contains all the nourishment and benefits of regular oil, but that is formulated to absorb quickly into the skin rather than sitting on top of it and leaving a slick residue.
According to the product website:
"With its unique concentration of 6 Precious Oils (Borage, St. John's Wort, Sweet Almond, Camellia, Hazelnet Hazelnut and Macadamia) and Vitamin E, this easily-absorbed, multi-usage Dry Oil will leave your skin soft and silky in a single step, while your hair will be left with amazing softness and shine.No preservatives."
This oil seriously does it all. You can add a drop or two to foundation for an easier application and more radiant finish, or to your moisturizer to make it a bit richer. You can run it through damp hair to leave it shiny and soft and apply to trouble spots for some extra moisture. You can use it instead of a serum under moisturizer if your skin needs a little something extra or dab it on for some subtle fragrance. You can even throw a few drops in your bath for an extra-luxuriant soak.
The fragrance is a bit floral, but with a deeper note that carries it and stops it smelling old-ladyish. It's definitely noticeable, but not overwhelming, so even people like myself who aren't big on fragrance will find it pleasant, while any perfume lover will want to just stand there breathing it in.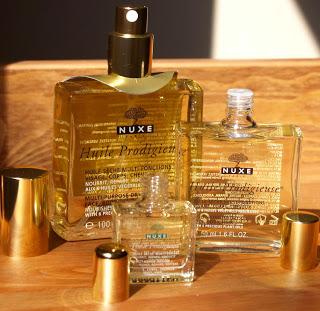 As you can see, there are three different sizes of the oil available - and all three have a different lid. The best option is the lid that comes on the 100 mL bottle - but of course, that's the most expensive! The 50 mL is good if you're using it on your face - it has a tiny hole and you have to turn the product upside down to get any to come out. I usually turn it upside down on my finger or tap it on my hand to get the oil out, but it can splatter a bit if shaken and not much comes out at a time. Not fantastic. With the tiniest 10 mL travel size, you can pour some into your hand which is okay for body application, but it's easy to get too much. You can also turn it upside down onto a finger if you want just a bit, but like with the 50 mL bottle only a tiny bit comes out and it takes forever to cover your entire face, let alone body.
You can get a tiny 10 mL trial size in the Nuxe Travel Kit (available for USD 20.64 on Feel Unique), which gives you an opportunity to try it without investing in a big bottle, and a very little goes a long way, so it'll still last you awhile. But trust me, after you try it, you'll want to make that investment. This stuff is like liquid gold!