Happy Monday, everyone! This has been something that I have been wanting to share with you guys for quite sometime,  but I wanted to wait until I actually had a piece to show you. I am also going to link back to my favorite pieces, and include the link to my Pinterest board that has all of their latest and greatest.
Anyways, I am now a brand ambassador for Mirina Collections, which is a Miami based online boutique known for their incredible 'famous necklaces'. If you want a true statement necklace, this is the place to go. I have never seen anything like it, so when I had the chance to become a brand ambassador, I happily agreed.  That being said, I do have a code with them that is good for 20% off site wide. My code is atlantan20.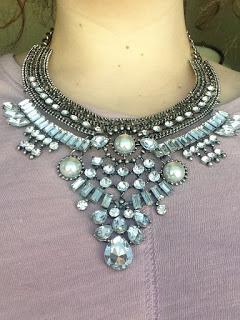 The first necklace I got is called Andy. It is one of the more "tame" necklaces. It is a classic and best seller. At first I wasn't sure if I could incorporate such a lovely piece into my everyday attire, but it was surprisingly easy to do. It is an easy way to dress up a basic shirt and jeans, or your favorite little black dress. I love pairing it with a pair of cut off jeans, a blush colored top with 3/4 sleeves, and stylish flats. It took about 3 weeks to get it because their necklaces are hand made. Yes, hand made. It looks quite delicate in pictures, but it is more sturdy than what you would think. The clasp is also one of the best I have ever used. I don't wear necklaces very often because many are hard for me to put on by myself. But this lobster claw clasp is perfect. I can easily work the lever and put the necklace on in two seconds. Easy peasy.
I always feel like a fabulous, well to do celebrity when I wear this piece. It is definitely an easy way to make yourself feel a little more fancy.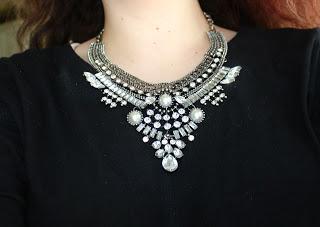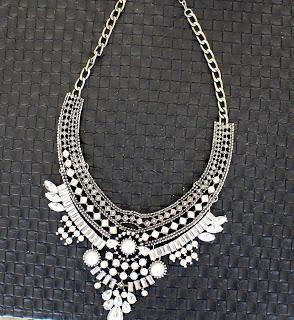 I also have a pair of the double bead 2 side earrings. I am obsessed with these because they turn a simple piece into something more modern and fashion forward. If you are like me and hate wearing small studs, these are perfect for you. I have thicker ear lobes, so studs and smaller earrings can get lost. These stand out in a fantastic way. I was initially worried that the back piece would fall off, but it didn't. They are sturdy and well made.  This pair is silver, but they come in other colors and in even a crackled pattern that looks like marble.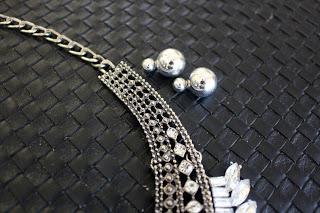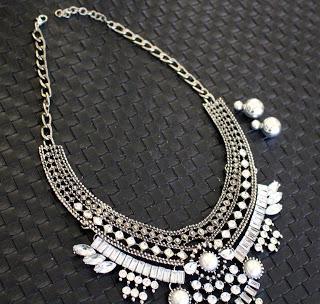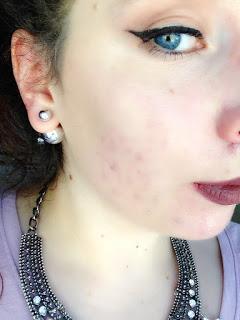 In addition to jewelry, they also have clothing, bathing suits, handbags, sunglasses, and a newly released monthly subscription service.  The subscription service is $39.99 and you get one of their famous necklaces, a ring or ring set, and a hand picked designer piece. These pieces are yours to keep. You can start building a unique and fabulous collection of jewelry that is different from anyone. Each box is valued at $299 and is delivered between the 1st and 10th of the month, starting in November. Basically, this is one heck of a deal.
I have loved my experience with them so far. They have amazing pieces that are far more affordable than high end designers, but every bit as fashionable and amazing. The owner is very sweet and they have an amazing team.
'Andy' Simple Bohemian Statement Necklace $149
Emma Double Bead 2 Sided Pearl Earrings  $34
Silver Moon and Glass Galaxy Necklace $55
Going High Fashion Sunnies $72
5 Piece Waves Knuckle Ring Set $39
Gold Layered Rhinestone Bracelet $29
Those are just a few of my favorite things from Mirina Collections. To see more, check out my Pinterest board here.
Go on and check out their website for yourself. You may even be able to get some Christmas shopping done a little early. =) If you do find something you like, just use my code atlantan20 to get a percentage off.