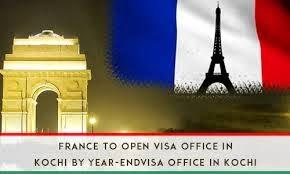 French ambassador to India Francois Richier, after walking out from the meeting which was held on Saturday with French business leader's and while speaking with the reporters and said that France will look to open its Visa offices, French higher education promotion agency and campus here by the end of this year.
He revealed that campus office of France would look to develop higher education institutions in Kerala to bridge the gap between Kerala and France.
Around India they have witnessed 400 active MoUs operating under Indian educational institutions and each of it is sending at least one student to France. France had initiated the prospect to ensure visas to 3000 Indian student which was the call of last year and amongst them 300 students were given French scholarship.
It is not shocking to understand that 350 French companies are operating their business throughout the India but what's more interesting to understand is amongst 350, five of the companies are functioning within the shore of Kochi.
Accor SA a chain hotel of France is building hotel Ibis within the periphery of Kochi and following the same course Tim Gullois one of the French marketing and communication professional have undertaken one of the native communication company Saltmangotree.
Richier while speaking in context of prospects said, France is very much open to give soft loans to develop eco-friendly projects around Kerala and they have already sanctioned an aid to support the plan of Kochi Metro. 
He further added that France is extensively looking forward to invest more in private sectors. While talking on joint approach of space research he said such initiative would benefit Vikram Sarabian Space center of Thiruvananthapuram.
When it comes to investment than the French companies have already spend $ 19 billion and the rate of investment in Indian companies over the five years as recorded was $ 1 billion every year.
From the investment rate roughly 10% of it would go for a research and development and understanding the prospect many French companies have set up research centres throughout India.
While speaking in terms of prospect he was accompanied by many dignitaries like Patrick Rousseau, chairman and managing director of Veolia water and French Consul General Philippe Janvier Kamiyama.