- Contributed by Lizette Royer Barton with digitization assistance from Jodi Kearns.
Francis Cecil Sumner (1895-1954) was the first African American to earn a doctoral degree in psychology. He earned his degree on June 14, 1920 under G. Stanley Hall at Clark University upon defending his dissertation, "Psychoanalysis of Freud and Adler."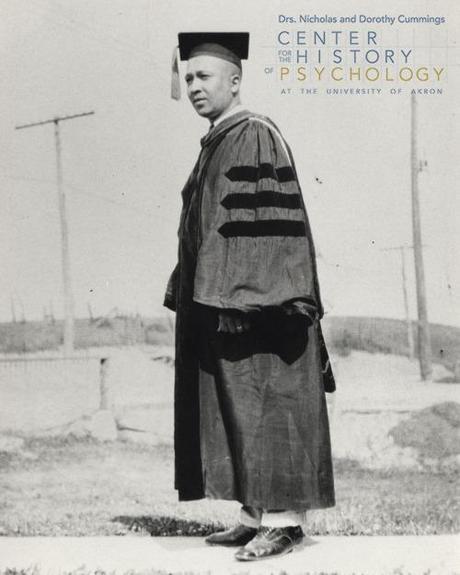 Francis Cecil Sumner in his doctoral robes.
Robert V. Guthrie papers
Listen to Kenneth Clark comment on Sumner's high standards when it came to education at the link below.
Many of us recognize Sumner's name because he was a "first." However, it could be said that the most important part of his legacy was his work in establishing the Psychology Department at Howard University and the teaching and training of numerous African American psychologists.
Sumner joined the faculty at Howard University in 1928. As was common in many historically black colleges, psychology courses were taught in the education and philosophy departments. Sumner believed in order to properly train Black psychologists an independent department of psychology was of the utmost importance. In 1930, with the support of Howard's president, Sumner established the psychology department and was promoted to full professor and head of the department that same year.
He was assisted in the department by Frederick P. Watts, a graduate student, and Max Meenes, a professor of psychology and fellow graduate of the Clark University doctoral program.
Listen to Max Meenes discuss the start of Howard's psychology department below.
Howard offered training up to the Master's level with a focus on laboratory and experimental psychology.
In the audio clip below Max Meenes discusses why they kept the program at the Master's level and how they prepared students for doctoral work elsewhere.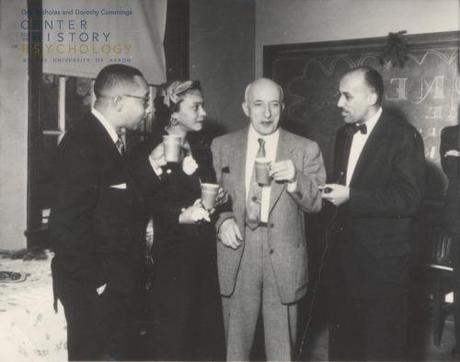 Kenneth B. Clark, Mamie Phipps Clark, Max Meenes, unidentified. 1957.
Robert V. Guthrie papers
Well-known graduates of the Howard University Psychology Department include Kenneth and Mamie Phipps Clark, both of whom went on to earn doctoral degrees from Columbia University. Kenneth Clark in particular stressed the influence Sumner had on him while at Howard and the importance of his time in the department.
Listen to Kenneth Clark talk about Sumner's influence on his own education and career as a psychologist. 
To learn more about Francis Cecil Sumner please check out Robert V. Guthrie's seminal book, "Even the Rat was White: A Historical View of Psychology." And to learn even more pay a visit to the Cummings Center for the History of Psychology and take a look at the Robert V. Guthrie papers, which include the incredible sound recordings featured above.