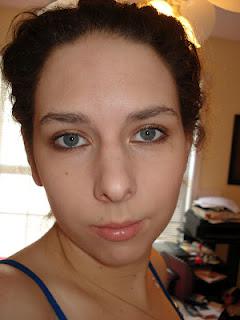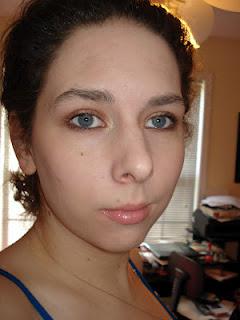 I have been reading a lot of historical fiction books on Roman history.  Of course mythology was essentially the backbone of their culture and the center of everything they did.  Classical history was always my favorite part of any history class, and their literature was always my favorite part of English classes.  I was very inspired by all of this, and decided to do FOTD's inspired by the Roman goddesses.  First up is probably the easiest, Vesta.  She is the virgin goddess of hearth, home and family.  She was the only Roman deity to have full time priests, or really priestesses, called the Vestal Virgins who were greatly revered in Roman society.
 Since Vesta is virginal and the goddess of the home, I wanted to keep her more natural and simple.  Nothing complex here.  I used bronze, dark brown and white for the eyes.  I kept the lips and cheeks neutral.  In fact, I used no blush.
 First off, I applied the Too Faced Shadow Insurance.  Then I applied The Body Shop's Vitamin C Skin Boost so my skin would have a fresh and youthful appearance.  For my eyes, I used the new Sephora Collection Izak Baked Shadow Palette.  I used the lightest color (top left) as my all over base.  Then I used the bronze shade on my lid and lightly blended into the crease.  I used the darkest brown in the bottom right to lightly line my lower lashes.  I finished off my eyes using TheBalm's Cheater mascara.  For my face, I applied a small amount of Smashbox's Camera Ready BB cream as a primer, then I applied a little bit (maybe half a pump) of Lancome's Teint Miracle foundation.  This is a blush free look :) I just used my natural flush.  For my lips, I used the new Izak Satin Kiss Twin Lipstick in Coquette.  Plus I wanted to try out a few products I had just bought from Sephora.
Products Used:
1.) Too Faced's Shadow Insurance
2.) Sephora Collection  Izak Baked Shadow Palette
3.) TheBalm's Cheater Mascara
4.) Smashbox Camera Ready BB Cream
5.) Lancome's Teint Miracle Foundation
6.) Sephora Collection Izak Satin Kiss Twin Lipstick in Coquette. I used the nude shade.