Hi friends! Right before I wrote this blog I was going to write a little rant as to why I kept disappearing. But, I figure that it's the holiday season and I just don't want to dwell on that kind of negativity. Long story short - the internet technician did come that Sunday (the 9th) and the internet was working for a few hours and then it died again (-insert extreme frustration here-). So we called our internet service again but they couldn't come out to fix it again until Thursday. So...our household was without the internet for almost two weeks. But it's all been taken care of, so on to more positive things!
Today, I'm actually posting my first FOTD (aka face-of-the-day). Although, don't expect a daily FOTD because I actually don't wear a "full face" of makeup on a daily basis. On most days, I usually stick to either a tinted moisturizer, bb cream, or just do a little bit of concealing and I wear a tinted lip balm. Pretty boring, right? Hahaha...
But today, I did wear a little bit more than usual and decided that it would be nice to blog about something a little different than my usual stuff. I do apologize in advance that the colors are a little washed out in the pictures. I took these at night and my flash took away some of the colors (and made my skin look MUCH better), but I hope you can still get the general idea.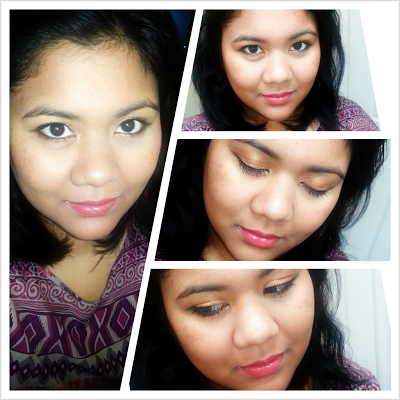 On my face I just have "homemade" tinted moisturizer - basically I added half a pump of my MAC Pro Longwear Concealer in NW35 with some Simple Hydrating Light Moisturizer. I set my tinted moisturizer with the ELF HD Powder (yellow) and finished by applying Milani's Mineral Powder Blush in Mai Tai on the apples of my cheek lightly (hence you can barely see it on the pictures - in person, it was more noticeable).
On my eyes, I used the Tarte Carried Away eye shadow palette. I applied Tuscan Sun all over the lid and added Coral Reef in the outer corner and into my crease. Then I highlighted my brow bone with Pearl River and used a little bit of Spanish Sangria to darken the outer corner and give it a little more depth. All the eye shadows were used over my Urban Decay Primer Potion.  To define my eyes a little bit more, I lined the top and bottom with my Urban Decay 24/7 Glide-On Eye Pencil in Zero and softened it by smudging it with a smudge brush and extending it outwards into a slight "cat-eye". I finished the eyes by curling my lashes and applying Lancome Hypnose Star on both the lower and upper lashes. 
Finally, on my lips I have Revlon's Super Lustrous Lipstick in Kiss Me Coral (applied lightly) and Revlon's Super Lustrous Lip Gloss in Coral Reef. It's showing a little more pink in the pictures, but in person it was more coral. 
And....that's it! I was pleasantly surprised how this look turned out and it's one I'll definitely go back to. It was extremely easy to achieve and while it gave a little bit of "drama" to the eyes, it was still very soft and girly. I hope you guys enjoyed this post...I know it's a little different than what I usually write about, but mixing things up every now and then is good, right?