I feel a bit down in the dumps today and I am pretty sure today is not a good day to cross me.  I was deciding if I wanted to depict this mood by not even wearing makeup or by using my Urban Decay Smoked palette and doing a darker, edgy eye.  Well, what kind of a beauty blogger would I be if I did the former?  I did not want to do anything too dark for fear of looking like a raccoon or giving off a "I am so moody I may actually hurt you" vibe.   I just wanted to give more of a mysterious, moody vibe.  Plus I am getting sick of summer and wanted to do something related to fall/winter.
Products:
Too Faced Shadow Insurance
Urban Decay 24/7 Glide On Eye Pencil in Peversion
Urban Decay Smoked Palette: Kinky, Freestyle, Asphalt, Loaded and Mushroom
Buxom Lash Mascara in Blackest Black
Lancome Teint Miracle foundation
Lancome Color Design Lipstick in Provocative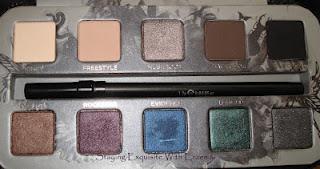 Kinky and Freestyle: top two, Loaded: emerald green, Mushroom: 3rd on top and Asphalt: bottom left
Steps 
1.) Apply Too Faced Shadow Insurance and let sit.
 2.)  Apply Freestyle as an all over base.
 3.) I lined my eyes using Peversion and used a smudge brush. 
 4.) Using the same smudge brush, I applied Asphalt on the inner half of my upper and lower lash line, right over Peversion.  I did the same thing on the outer half using Loaded.
5.) I applied Mushroom onto the lid and blended it into the crease.  I blended Freestyle into the crease to help smooth things out.
6.) I used Kinky just under the brow bone as a highlight.
7.) I applied two coats of mascara.
8.) I applied my foundation.
9.) I dabbed Provocative onto my lips to give sheer color rather than opaque.
Results