Hi beautifuls!
Here is my face of the day! Working at a clothing shop definitely has some perks because I actually need to dress up and put on some makeup, lol.  Otherwise, I'm kind of too lazy to put any on!
Normally when I go to work at the clothing shop called Star Couture, I usually put on pretty heavy makeup but today, I opted for a more natural look!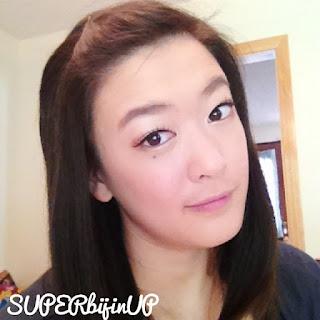 Sometimes, less is more! But in any case, I'll break down the look and eventually I'll put up a video tutorial if you all like the look!  
FACE
Make Up Forever HD Microperfecting Primer in 0 Neutral
Make Up Forever HD Invisible Cover Foundation in 118 Flesh
Rimmel Stay Matte Pressed Powder in Transparent
Paul & Joe Pressed Powder Duo in 01 Cool
Nars Blush in Orgasm
BROWS
Sephora Moonshadow In the Nude Baked Collection's Deep Brown Urban Decay Naked 1 Palette's Virgin
EYES
Urban Decay Naked 1 Palette's Sin Urban Decay Naked 1 Palette's Smog Star Couture's Fake Eyelashes Box of 10 in #704 Kiss Me Heroine Make Smooth Liquid Eyeliner in Black Majolica Majorca Lash King in BK999
Here is a picture of the lashes up close: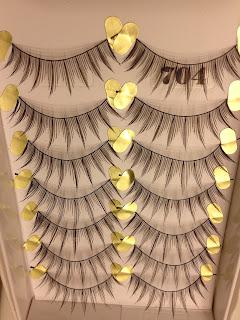 This box of eyelashes can be purchased at Star Couture! I believe they currently retail at $13.99 but I can double check tomorrow.  They're really flexible and very good quality! Here is their Facebook page: Star Couture
As for the other products I've listed, I've hyperlinked them so if you wanted to take a look at the product up close or to purchase them, go ahead and click on the links! :)
This is a pretty simplistic look and this might become my go to look if I'm feeling like I don't want to put on too much makeup!
Let us know if you all have any more questions!
We'll more than likely do more face of the day posts in the future!
My better half Ashley is gearing up to do her first post! We're not sure what it's going to be about but we're wavering between circle lenses, fake eyelashes, and several other options! Let us know what you'd like to hear more of!
----
What are your go-to makeup looks? Do you like any of the products I mentioned? Do you dislike any of them?
Disclosure: All of the products mentioned were purchased by SUPERbijinUP.