Today (or maybe yesterday once this gets posted), I didn't have anywhere to go or anything extra to do. That is so rare it could almost be considered a miracle. So I decided to have some fun with a few new products. Influenster was kind enough to select me for their Estee Edit Vox Box, so I have been thoroughly trying those four products out. I was particularly inspired by their cream shadow/pigment duo in the shade AquaNova, which is a beautiful, deep teal.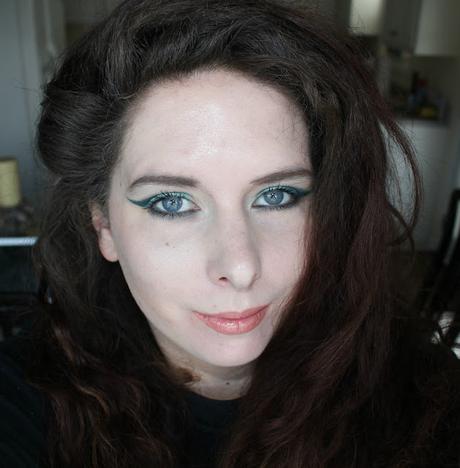 1.) To prep my skin, I used The Estee Edit's Radiance Activator all over my face. I also applied their Late Night Eraser Brightening Eye Balm to moisturize my under eye area.
2.) I primed my eyes using Milani's Eyeshadow Primer.
3.) For my base eyeshadow, I used Makeup Geek's Baby Face eyeshadow.
4.) Using very precise eyeliner brush, I applied the cream shadow in the AquaNova duo to my crease and extended out to give a slight wing.
5.) I took Makeup Geek's Envy eyeshadow and blended out AquaNova until there were no harsh lines.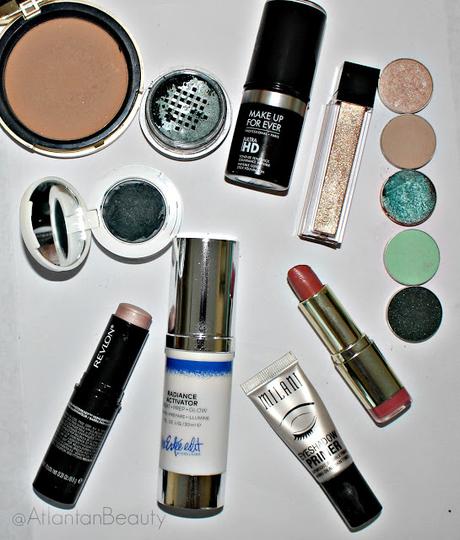 6.) Using a pencil brush, I carefully (and lightly) applied the metallic pigment from the AquaNova duo onto the teal eyeshadow.
7.) To add some color to the lid, I applied Makeup Geek's foiled eyeshadow in Pegasus.
8.) For my foundation, I used Make Up Forever's Ultra HD Foundation Stick and buffed that in with a damp beauty sponge.
9.) To conceal my dark circles, I used Kat Von D's Lock It Concealer Creme and set it with her setting powder.
10.) After filling in my brows with Benefit's Goof Proof pencil, I used the same concealer to "carve" out my brows. I also used the concealer to sharpen the wing I created earlier.
11.) I used the Too Faced Milk Chocolate Soleil Bronzer to lightly contour.
12.) To create an intense highlight, I started with the Revlon Photo Ready Insta-Fix Highlighting Stick in Pink Light topped with Catrice's Champagne Campaign highlighter.
13.) To make the look a little more daring, I wanted a metallic peachy nude lip. To achieve this, I applied Milani's Nude Creme lipstick with Jouer's Skinny Dip Lip Topper.
14.) For my lashes, I used L'Oreal's Voluminous Primer and Max Factor's Masterpiece Max Mascara.
15.) For the final finishing touch, I mixed Makeup Geek's Shimma Shimma eyeshadow with Shore Thing to highlight my brow bone.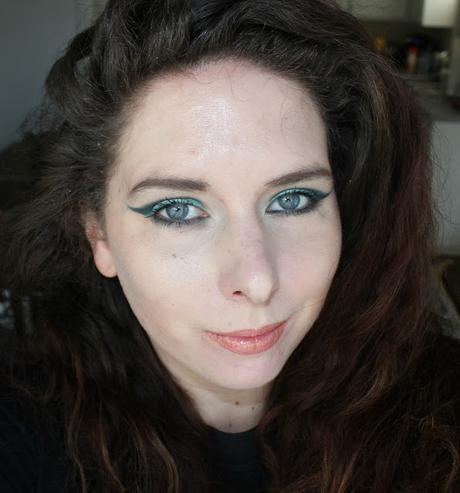 It is far from perfect. I mean look at how shiny my forehead is! I didn't realize that until now. But that happens to the best of us. I had a lot of fun with this because it was very much out of my usual comfort zone, but it still turned out pretty well overall.
I will see you soon! My next post will be all about my August Favorites.