You remember when only high end brands had amazing quality highlighters? Well, I am happy to say that those days are gone. Wet n Wild, Makeup Revolution, ColourPop all have good highlighters and now Flower Beauty does, too. I was curious about all of their new releases, but I was also skeptical as I have never tried anything and for a drugstore brand, Flower is a bit pricey. It is well worth the more expensive price tag.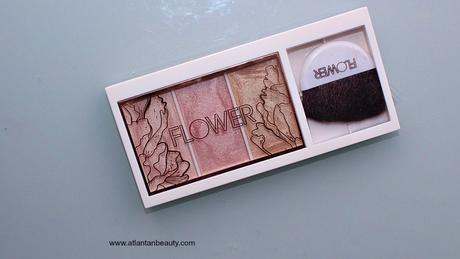 This palette comes with three different highlighting shades: a golden champagne, a peachy pink, and a lighter pearly one. All of them are stunning and easy to wear. The texture is amazing! They are extremely soft and buttery without being too powdery or chalky. They are a teensy bit powdery, but it isn't too much of an issue. A little spritz of setting powder and you will be good to go. They blend onto the skin well and I haven't any issue with the powders accentuating any pores.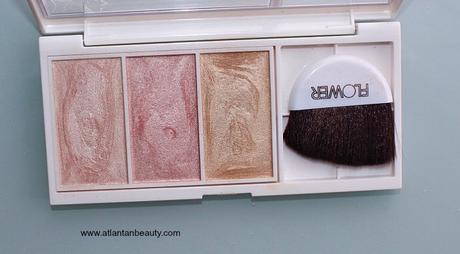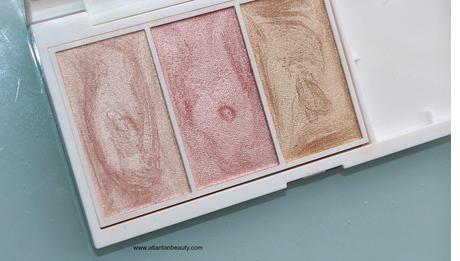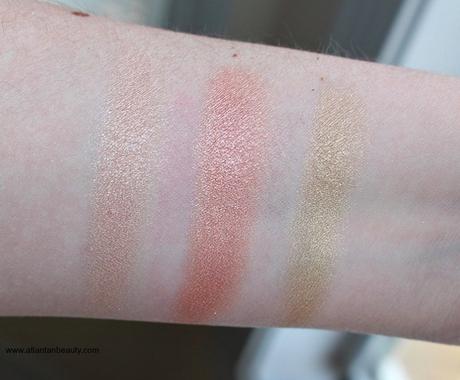 You can easily achieve a natural glow, or build them up to be more intense. I love that they do not have any glitter or shimmer particles. Each shade just leaves behind a beautiful, albeit rather intense, sheen. All of the shades have pretty good color payoff, so I can't really wear the gold or peachy pink shades by themselves. Well, I can, but I have to be careful and use a light hand. I usually just combine them with the pearl shade to lighten them up a bit.  There is one negative thing about these highlighters that I hinted at earlier. If you get a bit heavy handed, they can look a little thick. They aren't the best for layering in my experience, but a setting spray will help.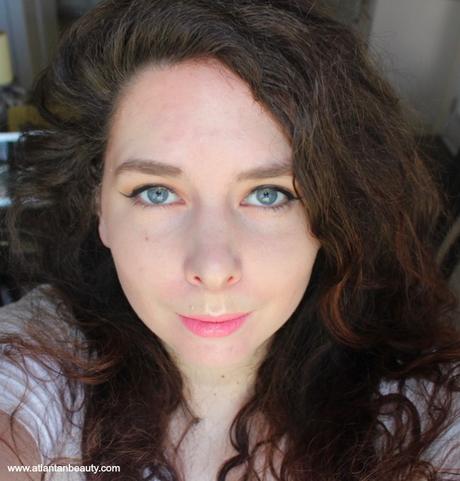 I'm wearing a combination of the gold and pearl shades on my cheekbones, tip of my nose, and cupid's bow. I'm in the process of trying a new bronzer, which is extremely warm toned. And that is why some parts of my face have a reddish appearance. They stay on really well without breaking apart or fading.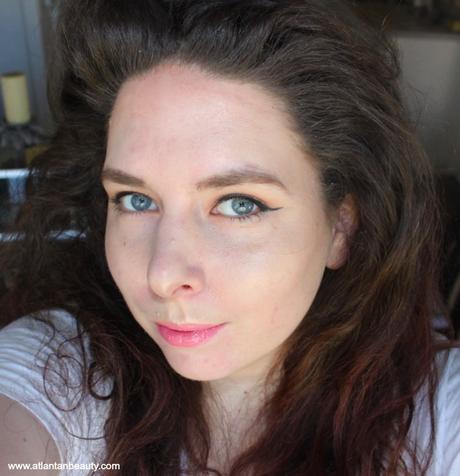 The wear time is great, too. I haven't noticed any fading, creasing, or separating throughout the day. The Flower Beauty Shimmer and Strobe Highlighting Palette is $14 and you can find it at Walmart (site and store) or the Flower Beauty website, which you can now order from.
Whether you are a highlighter junkie or are new to them, I recommend picking this up for yourself.