The few times I have been out for a fancy dinner at a steakhouse I have always ordered mushrooms to go along with my perfectly cooked medium rare steak. Delicious flavorful mushrooms that I am sure were cooked with loads of butter, I figured I could make them a little bit healthier.
I started with a flank steak, simply seasoned with a little salt, pepper, and Everyday Seasoning grilled for a few minutes on each side. Then allowed to let rest for 5-7 minutes. But what makes this meal is the mushrooms. A whole skillet of balsamic mushrooms.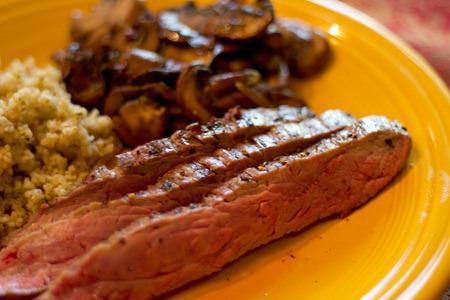 Balsamic Mushrooms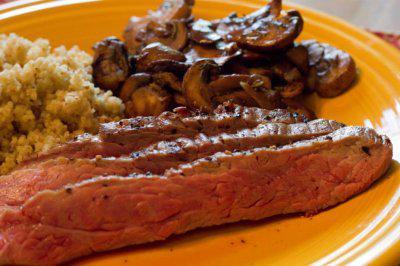 Prep Time: 5 Minutes
Cook Time: 10 Minutes
6024145
Ingredients (Serves 4)
2 8 ounce containers of mushrooms, such as cremini or shitake
1/2 onion, finely chopped
3 cloves of garlic, minced
1/2 teaspoon dried thyme
2 tbsp high quality balsamic vinegar
Salt/Pepper
Instructions
In a large skillet heat olive oil and add onion and garlic. Cook for 3-4 minutes.
Add in mushrooms and cook for 4 minutes.
Finish with thyme, salt/pepper and balsamic. Cook an additional 2 minutes.
Serve immediately with steak or on their own.
Powered by
Recipage
Now just add a good glass of red wine and I am a happy girl!