Hello from beautiful California! We are up in Sonoma for a few days on our Girls Weekend trip and are enjoying every second of wine tasting, delicious food, amazing scenery. While I am normally all about my workouts when I go on vacation I usually opt to skip workouts and focus on staying active. I'll be sure to get my 10,000 steps!
I made sure to pack cute, but comfortable walking shoes. I have a pair of my Vionic sneakers and these adorable sandals they just sent. Flip flops with support. Pretty much the best thing ever! And silver goes with everything.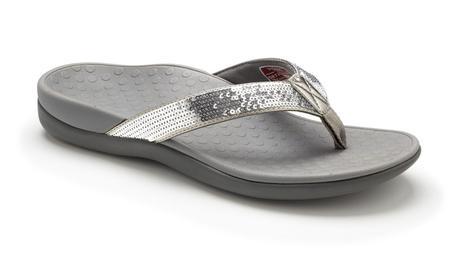 Before we left on Wednesday I made sure to get a few good sweat sessions in:
Sunday: Cardio, weights and a walk with the dogs
Monday: Tone It Up HIIT workout and Sunkissed Abs
Tuesday:  Yoga Sculpt
Wednesday: Cardio and weights
I still got 4 workouts in for the week and a few days without "formal" workouts won't hurt. I won't loose all my muscle or cardiovascular health. In fact, my body could probably use a few days off. When I get back next week I will be sure to get back to my normal workouts and do what my body wants. In the meantime I will enjoy a few days of active rest.
Food and wine are getting the same treatment, I will eat what I want and when I want it. I will not feel one ounce of guilt and I know I will choose healthy choices with splurges. But if I don't happen to have any veggies for a day or two I will survive. Everything in moderation! There is no need to be so strict about things that I don't enjoy life. What's the point? After seeing so many people obsess about it I don't need that negativity.