Since we are having the worlds longest winter with crazy cold temps and ton's of snow I decided that it was time to get outside more. With cabin fever setting in I just couldn't stay cooped up in the house any longer. I needed fresh air, even if that air was only 10 degrees with a -8 wind chill. My friend Kate is a big cross country skier and she offered to teach me (more like help me get up, but that's later in this post).
We hit up Como Park in St. Paul since they rent equipment, for around $15 for the day. You get skis, poles and boots. The lovely women working the equipment area got me fitted for everything and off we went. As someone who has only been on skis once in my life (3 years ago) I had no idea what to except. That motion is entirely foreign to me! We got started on the trail and Kate coached me on movement and how to get up hills. The hardest part? Going down a hill! Let's just say I fell. A lot. But I got up and kept going the entire course and by the end I even made it down a hill without falling on my behind. The best part? It's so much fun. A great workout, you are using muscles you never knew you had and it burns hundreds of calories.
A few key things I learned:
Supportive boots are a necessity. Mine were pretty old (they were rentals) and didn't give me enough support in my ankles.
Poles that are the right size. Mine were too short and I had a hard time really using them to propel myself.
That one time was enough to get me hooked. It just so happens that most of the sporting goods stores in the area have their end of season sales right now. Really good sales! Even though we have another 2 months of winter. I stopped at picked up a pair of boots, poles, socks, a spray for the bottom of the skis and new bindings for a pair of ski's that I found used (and that had only been used twice). It was less than $150 for all of that. 
With the help of an expert at Joe's Sporting Goods, he made sure that the ski's would indeed work for me. Since skis are based on weight it is really important to have the right size ski. Mine are pretty small but that's what I needed. I got fitted for shoes that had really good ankle support, and with the poles we actually ended up going a bit taller because I plan to ski on track and in trails.
What I ended up getting: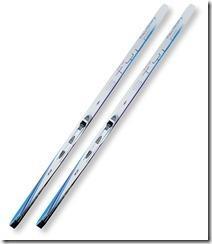 Fischer My Style Women's Cross Country Ski's (XS) Barely used for $50
New bindings (On Sale at Joe's for $23)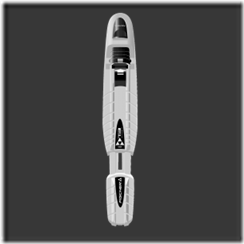 Boots. More than 50% off, only $50. Lot's of support and they keep your feet pretty warm.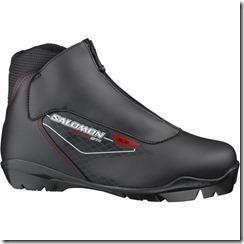 Good socks. Not too thick, but breathable. Smart Wool to the rescue. Designed for Cross Country Skiing. And on sale. I rarely pay full price for anything!
And poles of course, those were also 50% off!
What did I wear?
Sports Bra
Tank
Base Layer
1/4 Zip Pullover
Thinner winter jacket that would allow me to move (I found one on super clearance at Kohl's, my Columbia jacket does work but it's pretty bulky)
Klim Base Layer Pants (designed for snowmobiling but work great for other winter activities)
Ski Pants
Smart Wool Socks
Boots until I changed into my ski's and cross country boots right before I got on the trail
I picked up the ski's with the new bindings on Wednesday and went that afternoon after work. I picked a local park near us with trails and opted for the "easy" trail. While still not easy for me I did manage to only fall 3 times. Progress! And I burned 800+ calories. Loving it. I cant wait to go more and really get the hang of this! Falling not so much would be big bonus

Workouts This Week:
Sunday: Cross Country Skiing
Monday: So sore I could barely move…
Tuesday: Yoga Sculpt
Wednesday: Cross Country Skiing
Thursday: Off
Friday: Cardio and Weights