I have the Friday song in my head this morning, hopefully it is in yours now too. Sorry. We have a busy weekend with my work picnic tonight, helping friends move tomorrow and then tailgating and the Saints game tomorrow night. Nonstop! That is how it always is.
Workouts this week:
Sunday: Best Body Bootcamp
Monday: Off
Tuesday: Sculpt
Wednesday: Best Body Bootcamp
Thursday: Off,  I was sick

Friday: Possibly a workout after work
Saturday: Moving. I think this counts as a workout!
I talk a lot about my weekly workouts, I stick to a schedule and do a really good job of getting all my workouts in. But I also focus on getting good nutrition post workout. Since I workout in the morning I am typically eating breakfast at work.
I pretty much pack the same thing. Blender bottle, protein powder, Greek yogurt, my new find of  Seven Sunday's Muesli, and all loaded into my lunch box. (Thanks to Seven Sunday's for sending me muesli, I love it and have already found my nearest store to purchase more)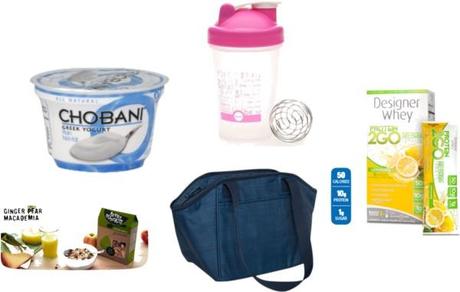 Post Workout Breakfast by
fitnspicy
on
Polyvore
GNC WELLbeING Blender Bottle, Fuschia
/ Lunch Break Thermal / Chobani Yogurt, Greek, Non-fat, Plain / Designer Whey | Protein 2GO® / Ginger Pear Macadamia Toasted Muesli | Seven Sundays