Disclosure: The items in this post were samples that I have received. If I am featuring it, I have tried it and loved it! I will never feature an item that I don't actively use.  
During the week I am usually getting ready at the gym or yoga at least 3 times. I've got the packing down to a science. Except the day a few weeks ago when I forgot a shirt. Yes, a shirt. Thank goodness I was at yoga and could buy something that was somewhat appropriate to wear. It was a day that I wore my office sweater all day…
My trick is to leave my bag packed with the essentials and just add in the clothes, jewelry and shoes that I am wearing for the day. Here are a few of the things you will find in my gym bag:
Cute Headphones (I have the uncanny ability to loose headphones and having a pair of brightly colored ones helps me not leave them in places). The chicBuds come in a few patterns.
Wojo Wallet. I've learned to keep my gym cards, check card, license etc with me. They are all tucked inside this waterproof wallet and go in the same pocket of my gym bag.
A great toiletry bag. I had used a 31 organizer for years and it finally broke. I've been using this bag with my hair products in the zippered area and then I refill the shampoo, conditioner and facewash. It keeps everything nice and organized.
Post workout drinks including Daily Greens and Muscle Milk Organic. I've been working on drinking more juice and getting that protein in 30 minutes within a workout is so important. Daily Greens makes ready to drink juices that are really good. Scott has even had a few. They sent me some samples and I've picked up a few more at Whole Foods.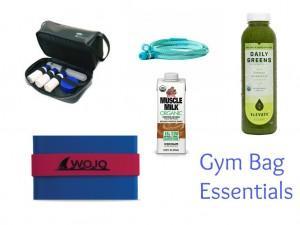 Workouts This Week:
Sunday: Cardio and Weights
Monday: Cardio and Weights
Tuesday: Off
Wednesday: Cardio and Weights
Thursday: Off
Friday: Heading to the gym after work
I've been alternating between Girls Gone Strong (if you are thinking about buying this, do it. It's such a great program) and Body Beast. Yes Body Beast is targeted towards men but it really is a great way to get the basics of lifting and focus on a body part split style workout. The arm workout is especially difficult and by the end my arms were feeling like big noodles. Loved it! They have an app to go along with so you can do the DVD's at home or follow the program in the gym (which is what I am doing).