In April, I had my body fat composition tested for the first time in nearly two years.  After earning some sub-par results, I followed my dad's prompting and joined a 60-Day Fitness Challenge at Club Zum.  After some minor dietary changes and a major lifestyle overhaul, I exited the challenge with 4% higher lean muscle mass than I had upon beginning.  The Challenge encouraged me to set goals and reminded me of how fun fitness can be.  A major part of my personal transformation was motivated by my trainers and coaches throughout the Challenge.  Together, Molly and Anne have flipped the switch on my mentality as it relates to overall wellness.  Before I met them, I was not a runner; last Sunday I earned a PR in a half marathon by 20 minutes.  Before I met them, I was dining out 75% of the time and drinking heavily most days of the week; this week I will likely have two sensible meals out.   They've whipped me into shape and helped me re-focus my lifestyle so that I can become the best version of myself – while assuring me that nobody is perfect and sometimes it's okay to have half a sheet of brownies.  Everything in moderation.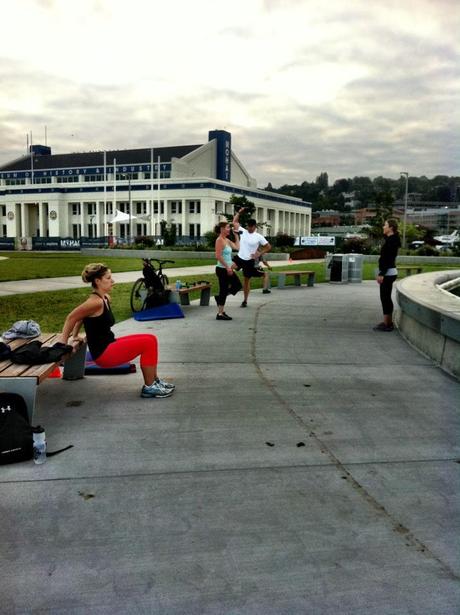 Recently, these ladies moved on from Zum to form a bootcamp company called The Fit Body Blueprint.  When I heard about the services they'd be offering, I jumped on board immediately.  Their mission is simple: to help each client succeed at achieving his or her ideal body (whatever that might be).  They come at you with nutrition and fitness plans and empower you to make results happen with a no-nonsense and inclusive attitude.  Each Total Body Bootcamp lasts for 30 days and includes the following:
Two certified coaches to guide each of nine outdoor strength and interval workouts;
Detailed 30-day Paleo meal plan;
24/7 coaching outside of class – they are there for you whenever you need it through social media, email and phone conversations;
"Off-day" personal workout programming.
All Fit Body Blueprint asks of its clients is to give their program the full 30 days.  Their creed? Eat Good Food.  And Exercise.  The value is phenomenal – individually, the program components would cost over $1,000.  Total cost for everything detailed above is under $300 for the full month.  This is less than twice per week personal training and a gym membership costs at most fitness centers in Seattle – and it absolutely works.  Their workouts are challenging – but not impossible – and their attitudes are contagious (even at 6 o'clock in the morning).  They'll push you hard, you'll get in a good sweat, and you'll leave feeling like you belong to a community.  An anecdote:
This morning, I was still feeling pretty immobile from the intense training I've been doing in the past week.  My abs hurt. My hamstrings hurt. My triceps were kind of achy.  I made it to bootcamp after 8 hours of sleep (yes, I went to bed at 9:00 last night) ready to give it 110%.  By the end of the hour, I couldn't turn right.  My abs were maxed out and I had to drop out of the last set of ab work.  It was frustrating.  Instead of letting me give up and sit out the last set, Anne came up and had me do a series of planks while other boot-campers.  She coaxed me into plank and helped me with my form, thus restoring my broken confidence.  When we finished up, she asked me what my days off are.  Immediately I thought of work and replied that I don't really have any.  When I realized that she was talking about training I responded that I couldn't say when my last real day off was.  "Let me help you work that in this week," she replied.   Excellent coaching and even better follow up – not only will they get me in shape, but they'll help me recover too.  Love these ladies.