Those who are observing Lent and abstaining from meat may be struggling to come up with dinner options for their families. T
his Baked Tilapia with Shrimp recipe from one of our family's favorite restaurants, Olive Garden, is perfect to conclude Lent or for any night your family is craving seafood. Serve it with your favorite vegetables. 
For a lighter version of this recipe, try Olive Garden's new Baked Tilapia with Shrimp at only 340 calories!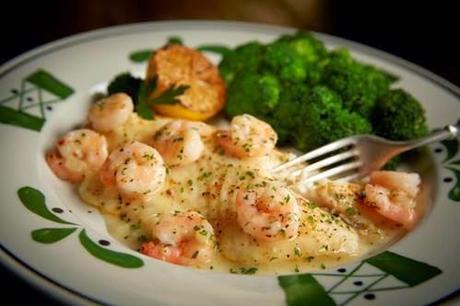 Baked Tilapia with Shrimp Recipe
(Serves four)
Ingredients
4   Tilapia filets
1.5 – 2 lbs.        Medium, unpeeled, deveined shrimp
1 tbsp              Butter  
1 tsp                Garlic, chopped
1 tbsp              Onion, finely chopped
1 cup           White Wine  
1 cup               Heavy Cream  
1 stick (4oz)      Butter, cubed   
1 tbsp.             Parsley, chopped
Pinch               Salt  
Pinch         Pepper  
Instructions
Make the butter wine sauce. (Yields 2 cups/4 portions of 4 fl. oz.) 
Melt 1 tbsp. of butter, chopped garlic and finely chopped onion in pot for 3 minutes.  Stir with rubber spatula.  No browning.
Add white wine and heavy cream. Simmer gently until volume reduces by half.  About 1 cup.
Turn off fire.
Add cubed pieces of butter.  Stir until butter, wine and cream are combined.  Sauce should have a slightly thick consistency.
Finish with salt, pepper and chopped parsley.
* Important: A fresh butter sauce must be served after being made. This sauce will not chill and reheat. When adding the butter to the reduction, the temperature of the sauce cannot exceed 150 degrees.
Rinse the tilapia filets and shrimp under cold water and place in a baking pan.
Bake at 350 degrees for 15 – 20 minutes. (Filets' internal temp should be 145 degrees.)
For plating, place the shrimp on top of the filet and top with the hot butter wine sauce. Serve with your favorite vegetable on the side.