I normally do not do anything for Halloween (I find most costumes to be quite cheesy or too revealing) But this weekend I am volunteering at a chatity race that is Halloween themed. And of course I don't want to be a stick in the mud. I didn't want to spend a ton of money on a costume I hate or on products that I would never use again. Cue the Sugar Skull. I have seen a lot of tutorials and the idea really speaks to me, especially since I am studying Spanish and these skulls are a staple of the Day of The Dead. They are creepy, but also kinda cute. Plus you can really make the look your own based on the colors and patterns you use.  Mine is still in progress, but I wanted to share what my first idea is. I didn't have any white face paint at the time, so I just used light foundation. This look requires using a ton of eyerliner, so have a sharperner close by. I used red lipstick to make it less creepy, but black, or just white lips, look good. 
I used Revlon's Color Stay Foundation, and a lot of it. I used a good bit of primer prior to protect my skin and make it more smooth. This will be especially important with the white face paint. For the lining around my eyes, I used SEPHORA Collection nano eyeliner in black and filled it in with Smashbox's Jet Set Liner in navy blue. The I used Sabbath (from Urban Decay's The Black Palette) on top. I used the same liner to make the design around my eyes and filled it with Stila's Sparkle Waterproof liquid liner in Electric.  For the stitches around my mouth, I just used a black liquid liner and also used it to line my lips. The red lipstick is Maybelline Color Sensational in Ruby Star. Some of the Sugar Skull designs have spider webs on the forehead and patterns on the chin, but I will probably skip that so I won't have to wake up at 5:00 am on a Saturday =)  This particular look probably took about 45 minutes. And be prepared to take a long time getting everything off..that was more challenging than putting everything on.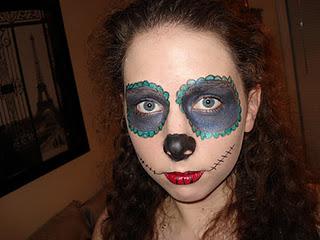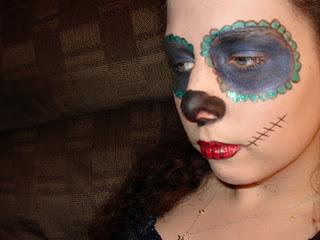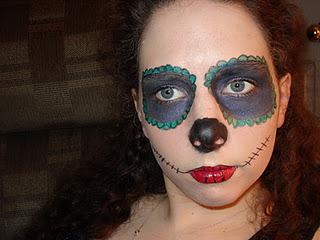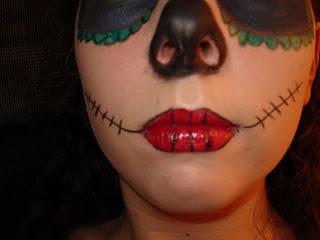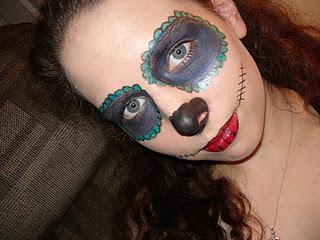 Tonight I am really going to focus on making my lines more straight and I have the face paint so it should look more authentic (hopefully it will not mess with my eczema but I have a plan to reduce the effect on my skin). Plus I have my fake lashes to play around with. Can you believe I am a makeup junkie and I have never used fake lashes? Wish me luck!