It is Aloha Friday! Yippee! And what makes today extra special for me is that it will not be my typical Friday. Nope, I am going to spend the day getting learning First Aid and CPR again to update my certification. It is a few years past due and an essential first step to my goal of becoming a running coach. Let the journey begin!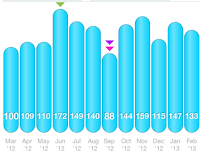 Second, I am ecstatic, truly blessed, jumping up and down

(okay, not that part as I am typing and my legs are achy right now)

that I logged a whopping 133 miles in February. This is up from 66 miles in February 2012. I have so much more number analysis to do but I feel the story is going to rock my boat so stay tuned for February's review!
And to add a fun twist to today, here are some links to some blog posts that touched me this week. What can I say? I am happy and feel like sharing some love today!
And why not start with a post that touched me just today. Shelly is Explaining a Few Things and really got me thinking about how I do want to feel Tuesday. Thanks Shelly!
I know he posted this last Friday but hey, I got behind on my reading so it took me awhile to read about Funny Foto Friday: Add Minutes to My Life from Adam.
Are you looking for more chuckles, check out a funny yet informative post by Beth, How a Tampon Can Save Your Life + Other Uses for Everyday Items.
But life isn't always fun and games. Sometimes we all need to get serious and pay attention. But I must say, I love how optimistic Erin always stays and loved reading Good, Bad, and Fun Stuff.
And last but not least, and there are many more posts I could have included but I wanted to stop at five, head on over and join in on the Spring Bootie Buster Challenge. If you do sign up, please let Amanda know Erica G sent you. The challenge starts March 4 and goes to April 21. It may be a good way to resist any Easter sugaries that find their way near you. On that note, stay tuned for an upcoming post on a healthier Easter basket. Oh my! As a kid mine were sugar bombs!
Daily Gratitude: I am thankful for educational opportunities.
Daily Affirmation: I do have what it takes to become a running coach!