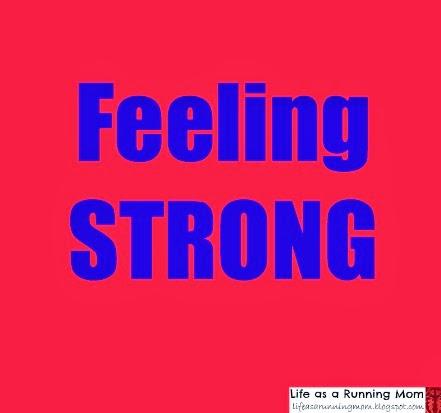 First, I want to say thank you for all the support and comments on my Discouraged post. It means a lot to me. My main reason for writing the post was to be honest. Dear hubby often says my blog is happy, happy, happy and that isn't me. Well, yes and no. I am not always happy and I feel I do a good job showing that without bringing people down. Who wants to hear non-stop complaining? Not me!
And then I saw the comment below on my blog's racing page today and my first response was to delete in and shrug off their intent to spread negativity but then I didn't. I responded because I wanted to. No, the person who wrote the comment may never see my response but perhaps someone who really needs to will. Because I am strong and so are you!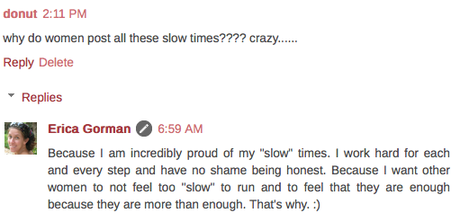 The bad side of running is the numbers. It leads to comparisons that shouldn't be there. But those numbers are also good things that allow you to see how far you have gone, how you have improved, and where you can go next. There is a delicate gray area between allowing your numbers to build you up and letting those numbers bring you down.
Never compare yourself to others. Don't do it. It won't ever lead anywhere good. And don't covet what others have. Yes, I am onto one of the commandments but it is indeed a good lesson. Don't desire another runner's time. It will do you no good, bring you no happiness, and in fact, may make you feel bad about yourself. Just don't do it.
We are each given special gifts in life that cannot be measured on a clock. If you read my most recent marathon race re-cap you can see this isn't a brand new thought to me. That time is pretty meaningless in the grand scheme of life if the time is all you care about. But I am not saying don't rejoice when you get a new PR, qualify for Boston, etc. Rejoice! You deserve it and I will be the first to congratulate you. But I will also stand up, get darling daughter up by my side, and start clapping and cheering like crazy for a guy I do not know. A guy whose friends were sitting by us after the Maui Marathon. A guy whose friends were anxiously awaiting for him. A guy who finished the marathon in just over 6 hours. His accomplishment brought tears to my eyes and made my heart swell. He didn't give up AND he had to spend more time out there in that crazy heat than the fasties. He is strong! And so are you.
Daily Gratitude: I am thankful that I did not delete the comment on "slow" times and that I responded to it.
Daily Affirmation: I am a great runner! I am strong!