Fashion Vouchers
are running a little blogger challenge at the moment that I've decided to take part in. The challenge is to put together a £50 outfit from Boohoo.com. Even with the fantastically low prices at Boohoo this proved to be a hard task! The price is a £50 voucher to spend at Boohoo.
I decided to go for something completely out of my comfort zone. I am very much an Audrey Hepburn 1940s/50s kind of gal but A/W12 is full of leather, lace and gothic touches so I've decided to base my look on that theme.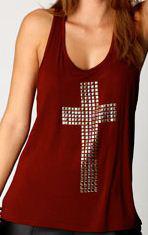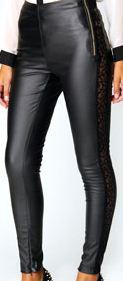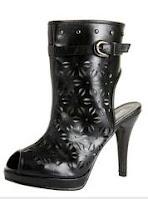 Earrings (£4), Top (£12), Trousers (£25), Shoes (£8)
Leather was
everywhere
at the A/W12 catwalk shows but I for one am not going to be forking out hundreds of pounds for leather trousers which will be out of fashion again soon enough. I think going for
PU trousers
like these ones is the ideal solution. At 25 quid, you can't say fairer than that! These also earn you double fashion points because they have black lace panelling down the sides. Lace was another huge hit on the catwalks.
The
studded top
comes in four colours but I've selected this wine color because again, deep reds were prevalent on the catwalks. You will be sick of hearing the word "oxblood" by the end of the season, trust me! The studded crucifix plays into the gothic trend perfectly.
Do I really even need to say anything about these
boots
? Leather look, perforated, peep-toe, cutout heel, buckles, studs, oh and they are £8 down from £30...done.
The
gold stud earrings
are a nice glam touch and they fit nicely with the gothic look. They could also lend themselves perfectly to the baroque "more is more" trend and could even girly up a tomboy look.
Admittedly this outfit isn't exactly me but I am delighted that you can put together such a on trend outfit for under £50 with Boohoo. If I win a voucher I'll be spending it on the denim shirt with metal detail collar and the studded denim jacket.
If you fancy entering get yourself along to
www.fashionvouchers.com
before the 30th of September!
Lisa x