So summer is here *looks out of the window...isn't entirely convinced....carries on writing anyway* So, yes, summer is "apparently" here, and all of us larger ladies are ultimately looking for ways to stay cool, but still hide our lumpy, bumpy bits whilst look beautiful.
Here is an outfit that I picked up in the recent sales, the only thing I don't own are the shoes, but I have a very similar pair :)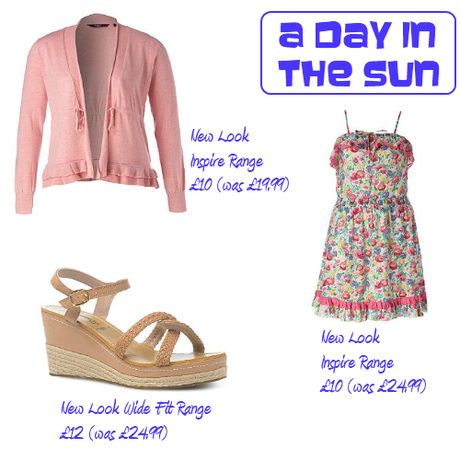 The Outfit

: The dress is knee-length and really floaty, so it is perfect for keeping cool. But, if you're not very comfortable walking around with your upper arms and shoulders showing, then this cardigan is a great match. I actually went a size up, because I wanted something that wouldn't cling to my arms at all, because that just makes me feel hot. I haven't been out in really hot sunshine, but the cardy is ideal when there's a bit of a nip int he air, so perhaps best for evenings, or the weather at the minute, since it isn't particularly hot.


The Shoes

: We all know that heels are incredibly slimming, but I am not a heel-wearer at all, so the current resurgence of wedges in fashion is an absolute god-send. They will just give your legs a great curve which is very flattering.


Extras

: It's an "issue" that most of us don't like to talk about, but most of us larger women (and even slimmer women) suffer from rubbing of the inner thighs. It's not nice, and it's one of the reasons why so many of us don't wear skirts or dresses during the hotter months, when we can't wear tights. One solution to combat this is by wearing Comfort Shorts, which are kind of like tights, in the sense that they are a similar material, but only cover your thighs, and don't feel as tights as tights (hohoho!). The only place that I have managed to find any was in Evans, and I have a pair in black and natural. They came in sizes that depend on your dress size and height, but when I bought my first pair (the black ones) they only had the larger sizes, so I had to go a size up, and they feel really comfortable.
I know a lot of people saying that wearing them defeats the purpose of wearing a dress/skirt to keep you cool, but I don't know if it's because I went a size up, but I barely even notice that I am wearing them, and they have never made me feel hot.
In actual fact, I wore my black comfort shorts underneath my black maxi dress and another dress, in Istanbul. The day I wore the maxi, it wasn't too hot, but the day I wore a shorter dress, it was really quite humid, and again, the shorts did not make me hot. So, as far as I'm concerned, if the shorts helped me survive a hot country, then they can survive the UK weather too!
Okay so Comfort Shorts aren't very flattering, but for £6, and as long as your skirt/dress is knee-length or longer, these really are a life saver.
What will you be wearing to keep cool this summer?