Attending events may be fun, but at times, it can get a little tiresome cos you've got no kaki (local slang for partner-in-crime). Plus, having to appear all classy whilst avoiding the wallflower look can be tough. Tsk. #firstworldproblems, don't you think?
Thankfully, last night I had one awesome kaki who brought me along to the CLUB313 Extravaganza at 313@Somerset (which is a shopping mall along Orchard Road, Singapore's prime shopping district).
Basically, CLUB313 is a loyalty programme for shoppers of 313, and their theme is More rewards, more recognition, more experiences, more surprises. In layman terms, instead of just awarding points, the mall has decided to reward its shoppers with experience-based items instead. Last night's event was a showcase of what CLUB313 members will have in store. Rather than going verbal diarrhea on you, why not check out mah peektures for more details?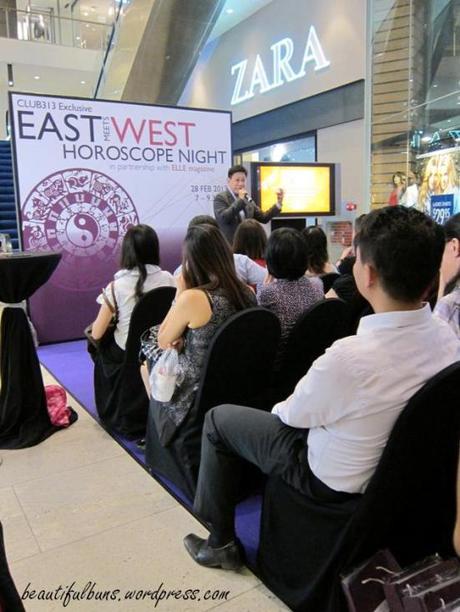 When we arrived, a talk was in progress – attendees were pre-selected members of CLUB 313. With all due respect to the speaker, it's not something that's up my alley… it's just like no one is ever interested in why I persist in arranging my dollar notes in my wallet in value order and also with Yusof Ishak's face upright. Anyhoos, we moved on to the other booths.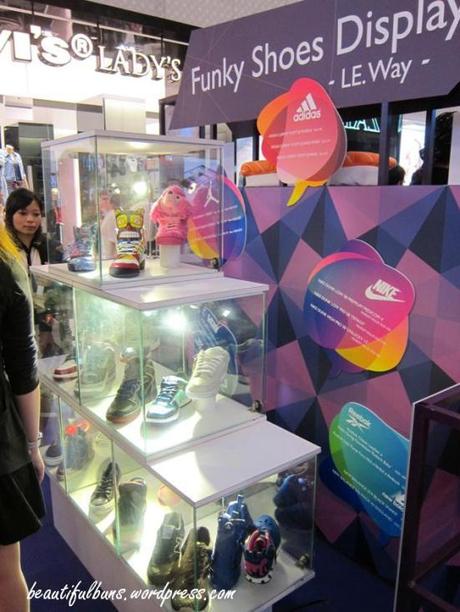 Special previews of limited edition footwear from L.E. Way, one of 313′s tenants.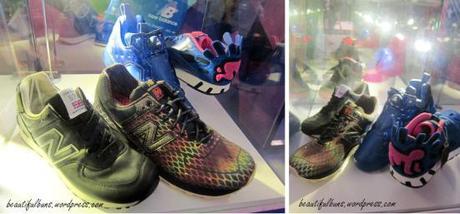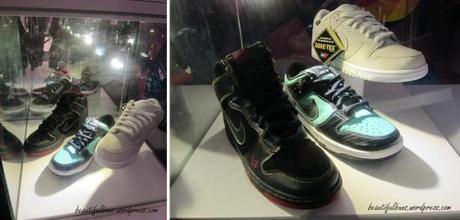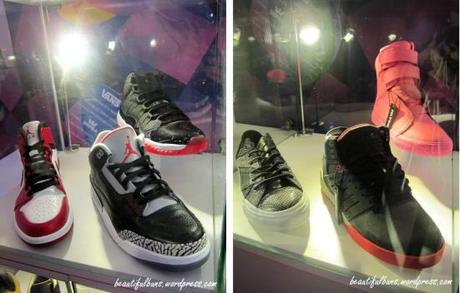 The highlight of the display – the poodle shoes zomggggg. They cost about $280++ I think? My kaki Christina was going bananas over them haha.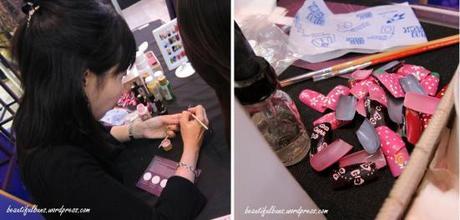 The next station was a nail art tutorial booth by Summer Nails – look at her work!

The guru showing us how it's done… and check out the assortment of works she has on display. My personal favorite is of course anything with animal preens.

Christina having a go at painting flowers. I'm locomotor-challenged, so I just stuck to stuff that didn't require too much coordination between hands, eyes, fingers, and brain. Photo-taking with one finger suits me fine.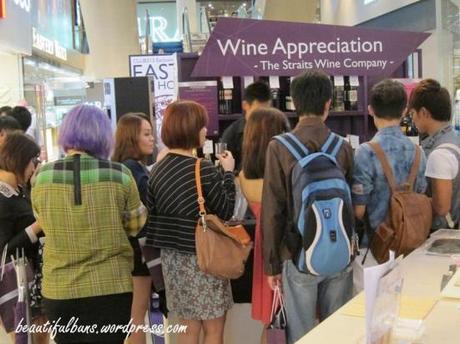 A huge crowd at the Wine Appreciation booth – lemme guess, freebies?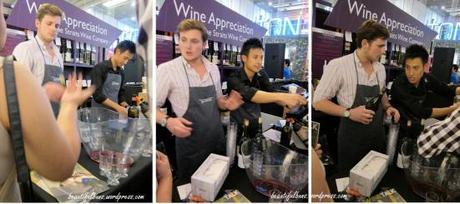 Squeezing my way through the crowd to find out what was going on… ooh. two hot men dispensing free alcohol. The crowd is justified.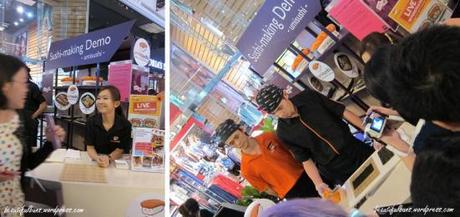 Next, there was also a sushi-making demonstration, which will be perfect for aspiring Shelford wives-to-be.
Since my idea of a Shelford wife is one that also looks good, of course I zipped over to Etude House's makeover booth.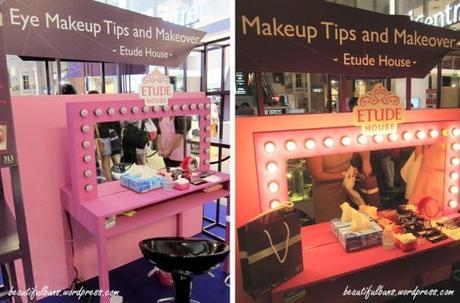 Etude House booth, I'm glad to see that you're turned on.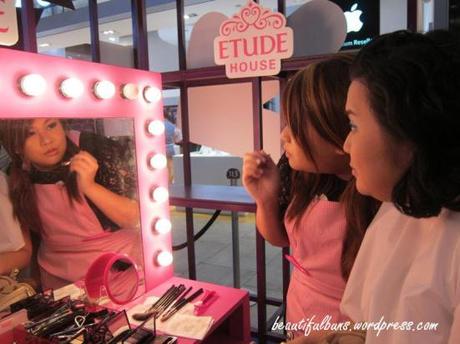 Deciding on what sort of look Christina wants…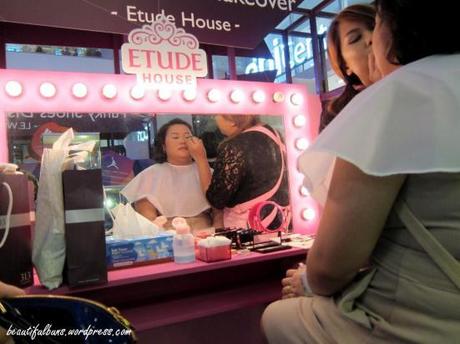 Going all metallic blue + glitter white!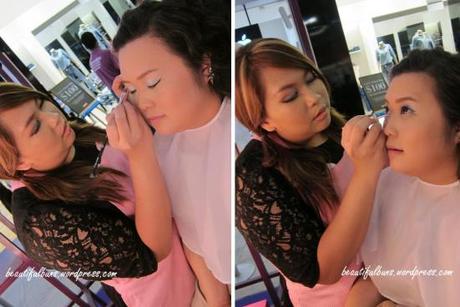 All prettified for the night!
To experience the same stuff we did, head on down to 313@ Somerset from now till 3 March (Sunday). What's more, there are various special promotions going on.
 28 February to 3 March: Simply spend a minimum of $50 (in a maximum of 3 same-day receipts) and you'll receive a goodie bag consisting of an exclusive CLUB313 moleskin notebook and shopping vouchers. Valid for the first 50 shoppers per day, with one redemption per shopper .

4 March to 30 April: Again, be one of the first 50 shoppers everyday to spend a minimum of $50 (in a maximum of 3 same-day receipts) and you'll receive an exclusive CLUB313 moleskin notebook. One redemption per shopper per day.

28 February to 30 April: For every $50 spent, you'll receive a chance to win the new iPad in the grand lucky draw that will be held on 2 May. CLUB313 members will receive double the chances. T&C: Up to 5 chances per shopper per day, and up to 10 chances for CLUB313 members per day.
If you enjoyed / will enjoy these sort of activities, then it's time for you to join CLUB313.
To qualify for CLUB313:
Spend S$2,000 in 6 shopping trips over a 12-month period.
What are the benefits?
Regular members' workshops
Special welcome gift
 Birthday surprises
Eligibility for reward redemption programme which consists of mall and retailers vouchers and free parking
For more information: