I have the weirdest luck factor – I have had crazy days where I won an item at all 4 consecutive events I went for in a day (back in 2009 I think), and then again, during this recent Clinique Christmas collection event where there were 16 (or 17?) prizes up for grabs with 32 attendees, I didn't win jackshit. Ah well, I guess I should have won my lucky panties then. On my head. lol.
Anyhoos, here's what Clinique has to offer for Christmas – and guess what? They're already available on counters. Talk about being fast. Click on any photo to enlarge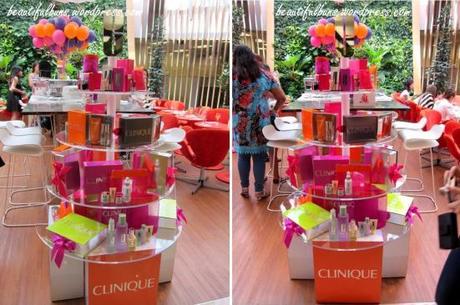 An improvised version of a Christmas Tree by Clinique with their Christmas goodies themed for Christmas / weather getaways ie Dry Summer, Wet Summer, Dry Winter, Wet Winter etc.
—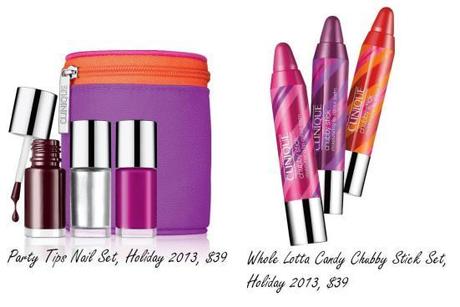 Party Tips Nail Set, $39 and the Whole Lotta Candy Chubby Stick Set, $39
—

And this is why product photos are important – because it clearly looks a lot better than what I took. heh.
Lips To Go with 5 little lip glosses and a little pouch/case
—

Even Better City Block set, $95
—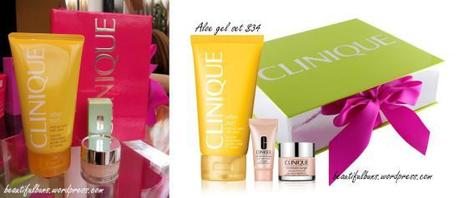 Aloe Gel set, $34
—

RWLF set, $128
—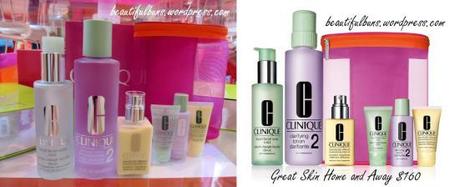 Great Skin Home and Away set, $160
—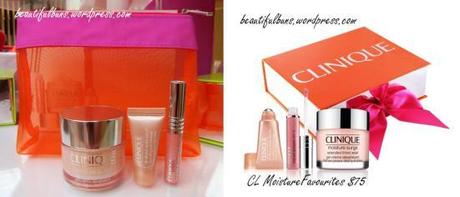 CL Moisture Favourites, $75
—

Kiss Set (price unavailable)
—

More than Moisture Set, $$75
—

Even Better Clinical Set, $143
—
There are more sets of course, but I must have missed them out whilst going round and round the tree. Giddy much heh. But you can always head down to the counters to check them out or drop me an email to send you the full PDF .
If you don't like any of the above sets or any of the ones you see, fret not, cos you can create your own sets and package them into these pretty Clinique boxes

Unfortunately, you won't be having a handsome elf man handing it out to you. heh. That's my elf, get your own damned elffffff.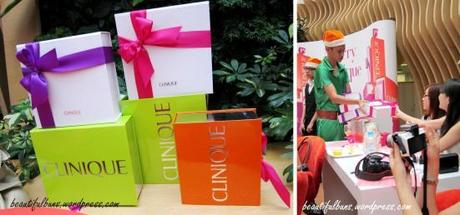 —
What's more, if your wallet isn't in a very cooperative mood, you could even win yourself a Christmas gift set from Clinique! Simply grab a copy of CLEO (my ex-magazine hurhurhur) or Singapore Women's Weekly and there'll be a Clinique card / leaflet / brochure (which is actually called an art card in our production terms), and fill in the pink portion to win the grand prize worth over $3,000!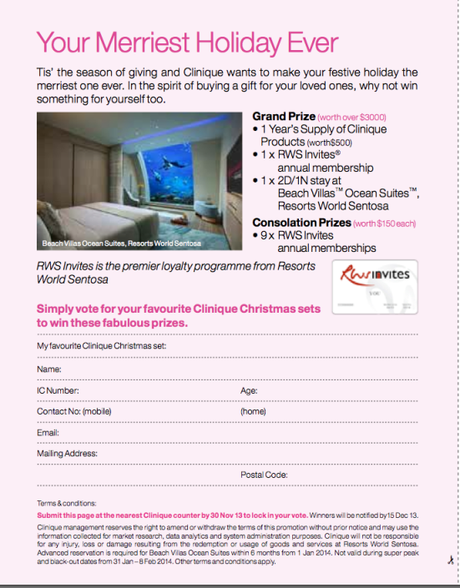 Phew. Yet another blog entry that needed a shitload of time to edit the images - see how I very conscientiously put in the product names and prices?

That's my sort-of Christmas gift to you guys hurhurhur.
P.S. If you guys ever have to go to a building called 2HR at Number 2 Havelock for any reason, it's actually the former Apollo Centre. It's also where this event was held, and the cabby was driving me nuts insisting that #2 Havelock is actually MOM, Furama Hotel, and about 100 buildings around it. Grrrr.
0.000000
0.000000