Now I've never been one to fuss about my brows – sure, I do love the Korean-style brows, but no matter what, I've got this thick curtain of bangs that obscure almost every carefully-drawn stroke (and sometimes my vision even). Alas, that fuels my inner lazy bum, and over time, I've just slacked off drawing, and consequently, trimming the brows.
But since beauty doesn't come easy (and the occasional gusts of wind reveal my weakness), I've decided to stop being a brow bum, gotten off my bum, and accepted Erabelle's offer of an eyebrow design.
Now, Erabelle  isn't just your run-of-the-mill brow place. It has more than 9 years of experience, and has also received the most awards for their brow services (Harper's Bazaar Best Brow Construction 2013 & 2014, Singapore Women's Weekly Best Brow Embroidery 2012, and more).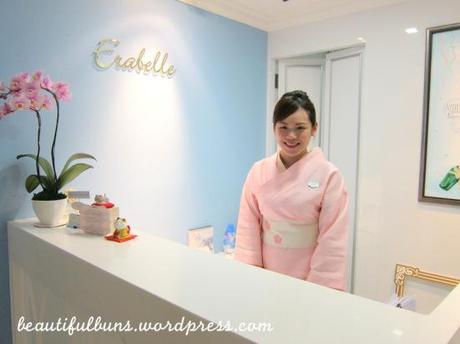 A welcoming sight – the Erabelle staff clad in a sweet pink kimono. Now Erabelle does not hail from Japan, but the kimono signifies their inspiration from the Japanese work ethics.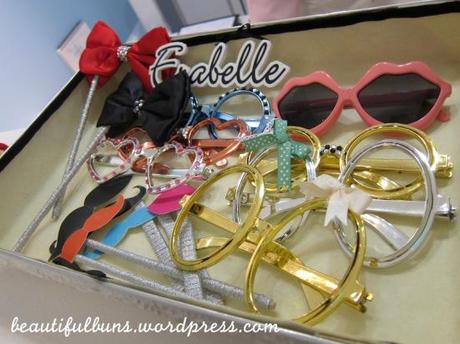 Specially prepared for us on the day of the demo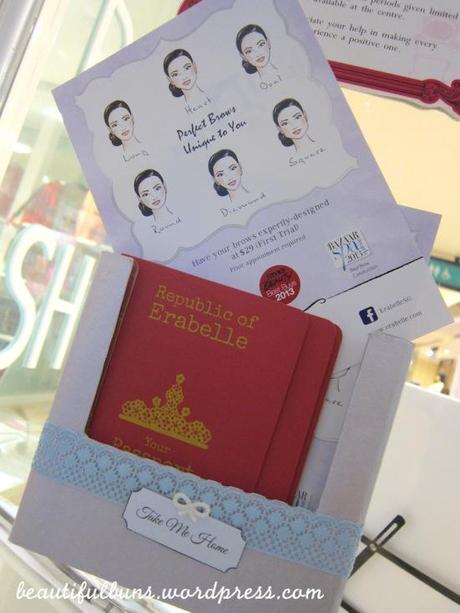 The cutest little Singapore passport-inspired booklet that contains information about Erabelle's other services. Hiding coyly at the back is another brochure that tells you what sort of eyebrow is suitable for the respective face shapes.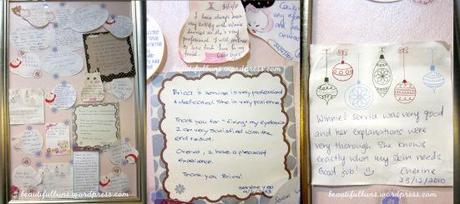 Tucked in a little corner of the store was this noticeboard with lil notes of encouragement from customers
Now since the rest of the guests were running late, we went on a short tour of the place and its fairy-tale themed rooms at this Bugis Junction outlet, which is located at #02-05.
Rather than a random choice, there's actually a rationale behind the theme – it was chosen because most of us, regardless of whether we're Gen X, Gen Y (or Gen the-rest-of-the-alphabets), grew up listening to these fairytales. They evoke a sense of familiarity, comfort and warm sincerity, the same sensations that Erabelle wants to instill into their customers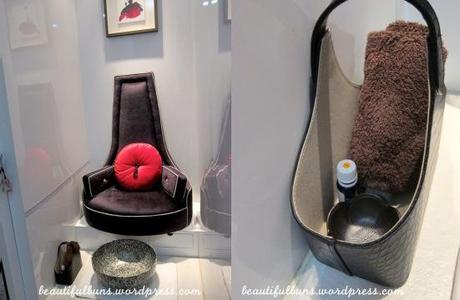 A must before you enter any room for their services – a cleanse and massage of the feet for both hygiene and comfort purposes.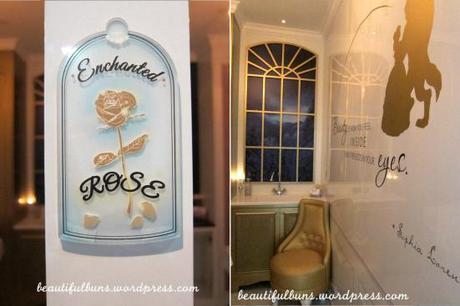 First up, the Enchanted Rose room, which is inspired by the Beauty and The Beast fairytale

The tray of toiletries contains a little extra something – an inspirational quote to perk you up and give you something to think about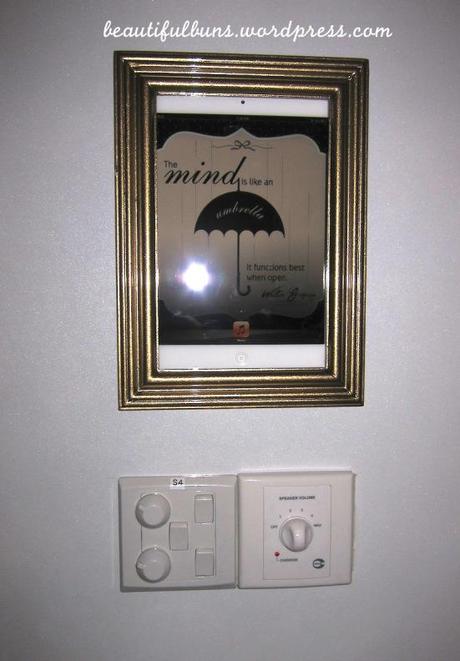 Nestled in the wall is this innocuous-looking screen, which is actually a tablet / control for the room's music – you can choose your preferred type of music to relax to. This feature is available in all rooms.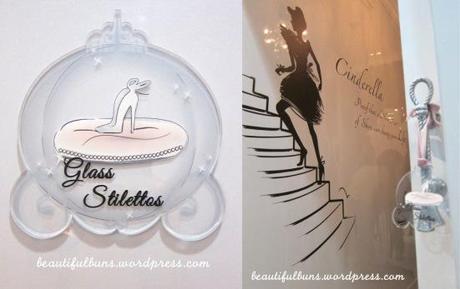 Well, this needs no further explanation – the Glass Stilettos room is inspired by the Lady of the (Midnight) Hour, Miss Cinders herself. This is a slightly more feminine room vs the Enchanted Rose room (which is more commonly used to host male customers)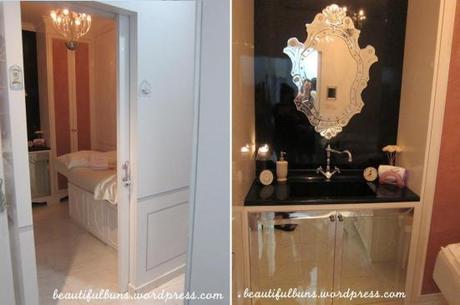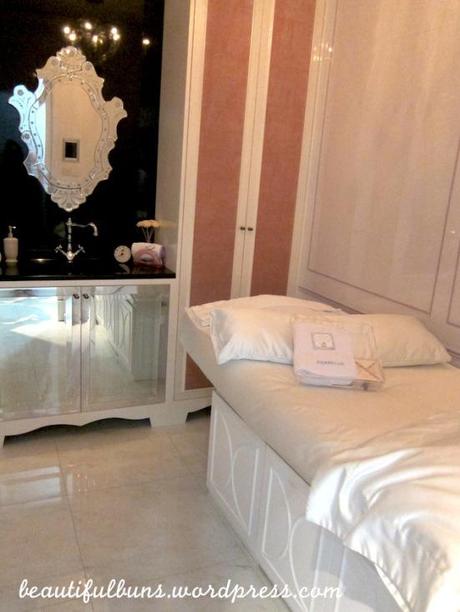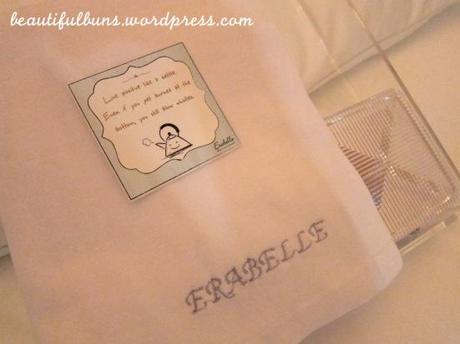 Again, the inspirational little quotes to give you something to mull about as you undergo your services.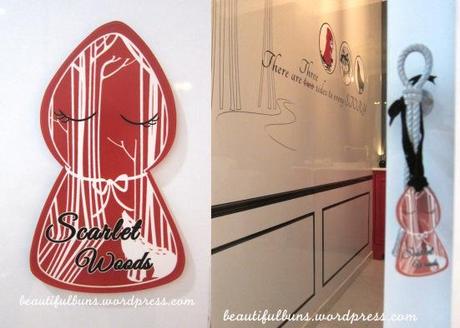 This is such a cute matroska-lookalike Red Riding Hood, which the Scarlet Woods room is inspired by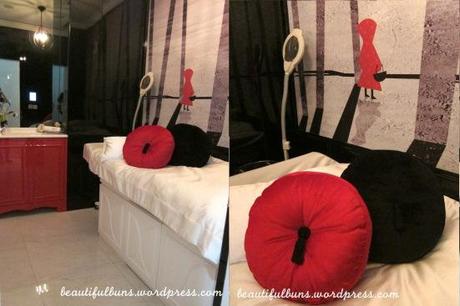 Bold red and black furnishings for this room make it my favourite
As much as I'm loving the interior decor (which coincidentally was conceptualised by the staff and not an external decor firm), it was time to sit down for the actual demo of Erabrowlogy (eyebrow embroidery).
Erabrowlogy is one of Erabelle's signature Cosmetic Artistry services. The bespoke semi-permanent color service adds color and depth to faded/sparse brows, and can also restyle and reshape brows. The shape / length / color of your brows are all customised to suit you. It uses a specialised Softstroke technique and micropen to gently apply the color just below the epidermis of your skin. Effects are natural, and will last 2-3 years with the full course of treatment and proper care, and saves you the hassle of having to draw your brows everyday.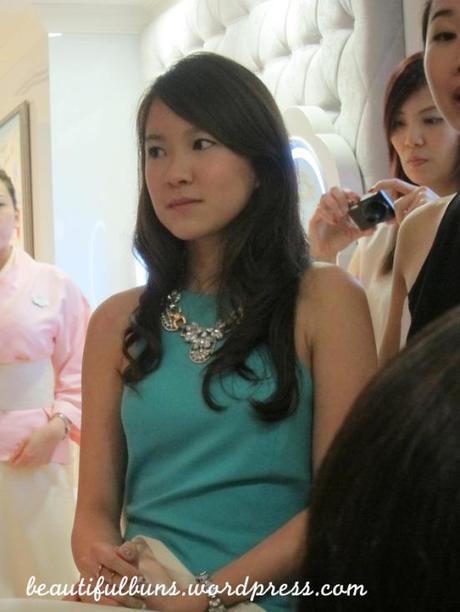 The SYT model for the day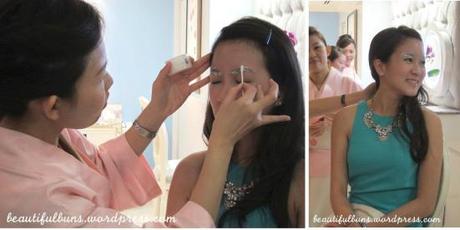 L: An eyebrow mask (the Brow Prep Mask) is applied to rid the brow areas of dead skin and excess sebum that contributes to poor color penetration, and R: A patch test is also simultaneously carried out at the back of the neck to ensure that the skin will not have any bad reaction to the pigment used during the eyebrow embroidery.
Once this is done, the Erabelle therapist will conduct a face shape and eyebrow analysis. There are 6 types of common Asian face shapes – take a look at their brochure below and see what you have?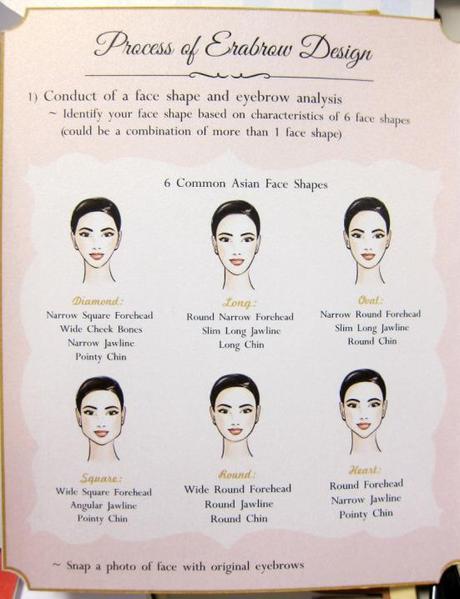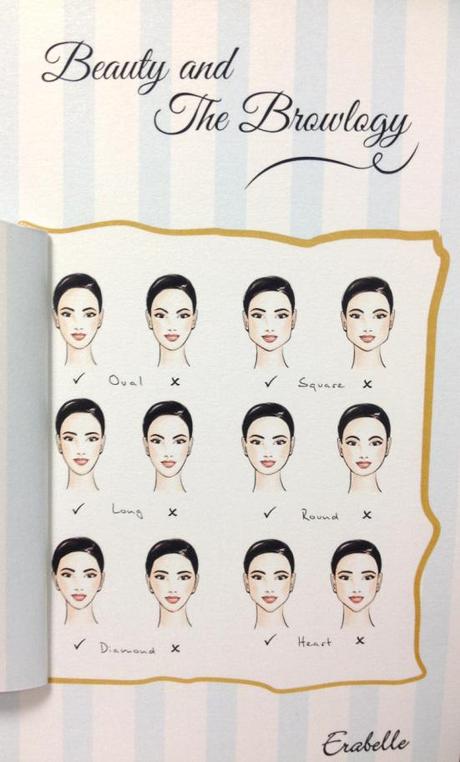 Once the face shape and eyebrow analyst is done, the therapist designs her brows, which include trimming and tweezing. Contrary to popular belief, eyebrow shaping isn't just pluck and go. At Erabelle, the following 5 factors are taken into consideration:
Length of the eyebrows
Thickness of eyebrows (including distance between the brows and eyes, size of your eyes, size of your face and body frame)
Shape and tip of the brow arch
Starting point of the brows – light and natural looking
Ending point of the brows – precise and complete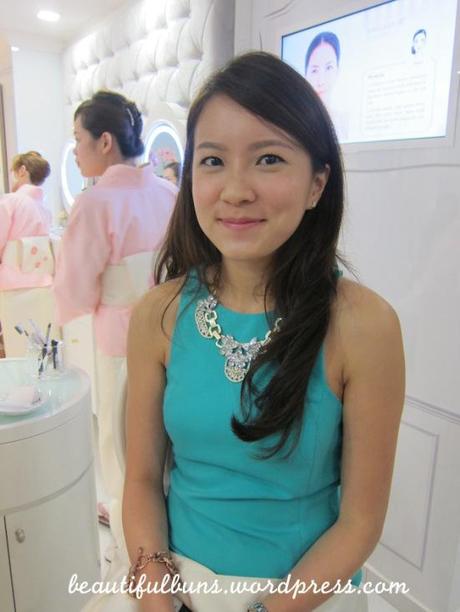 Since this pretty lil lady has a heart-shaped face, she's got a relatively soft-arched brow. This is how she looks with her brows shaped and penciled in to simulate the look of full brows.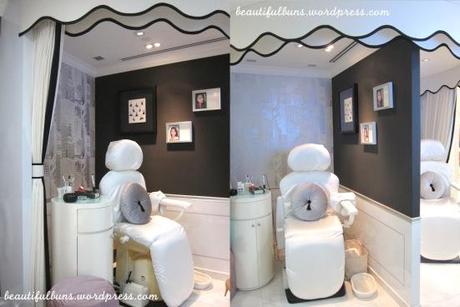 Next, she's moved to the quaint little corner to commence on the Erabrowlogy.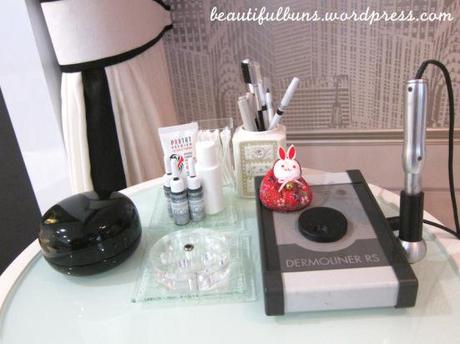 Erabrowlogy uses a European micropen technology that maximises comfort and also certified safe colours and anti back-flow mechanism.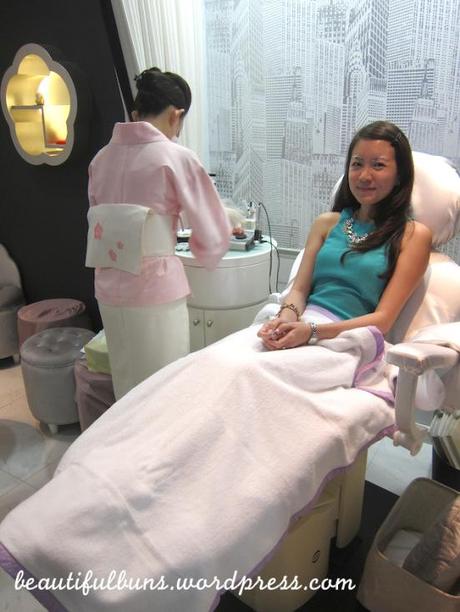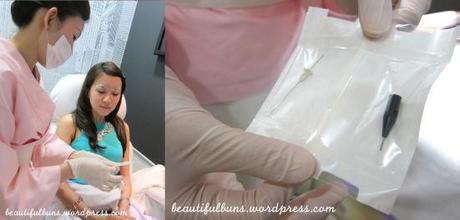 Before commencing – applying the numbing cream and bringing out fresh new micropen tips and color caps for ultimate hygiene.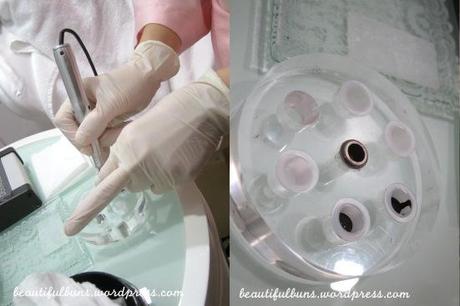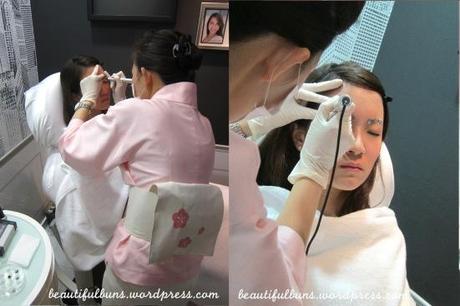 And off she goes!  The model says that it's not unpainful, but it's not painful either – you'll get used to the buzzing scratching motion after a bit. Since this utilises a machine, there's constant and equal pressure and differs from other places that use the single stroke-by-stroke blade technique.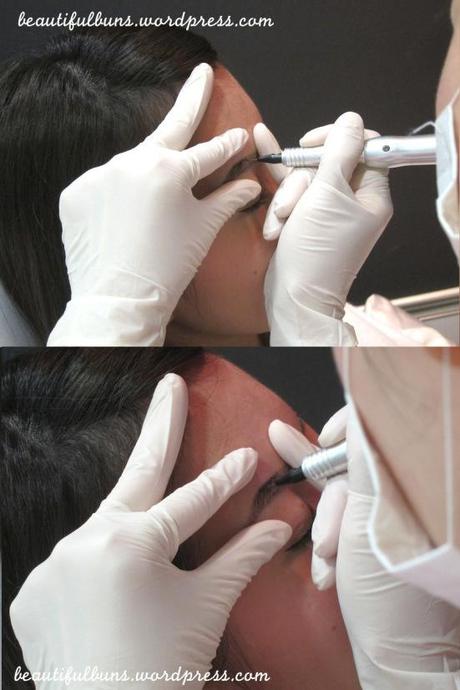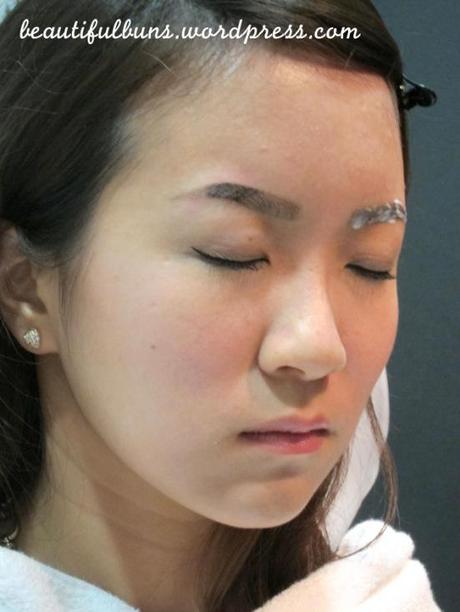 Colouring in the brows slowly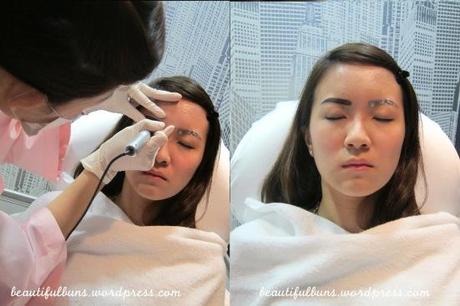 And round one of one side is done – note that it won't be as dark as depicted…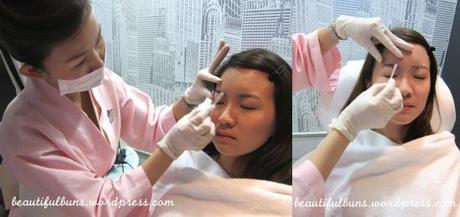 … because the remnant color will be wiped off before going for the second round of colouring in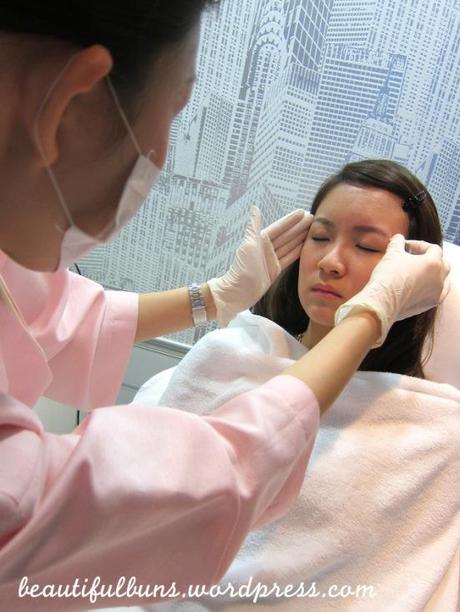 Checking to see if both sides are even and done properly before moving on to the second round of colouring in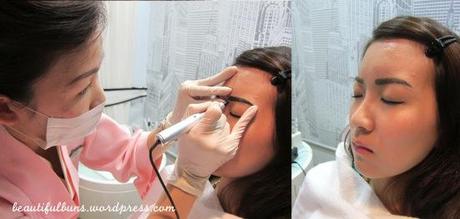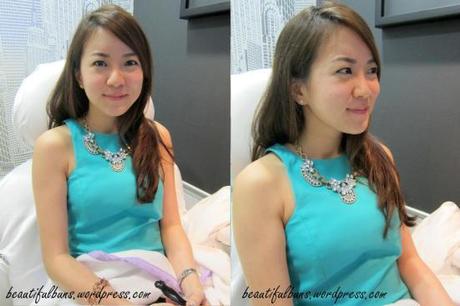 And she's done!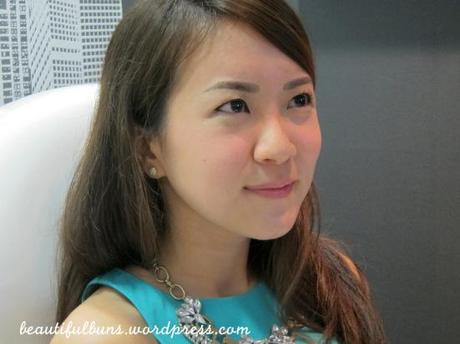 Very natural-looking brows from the sides as well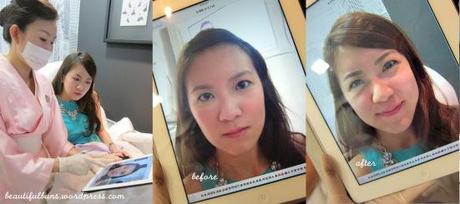 The therapist showing her the before and after photos – the difference is visible!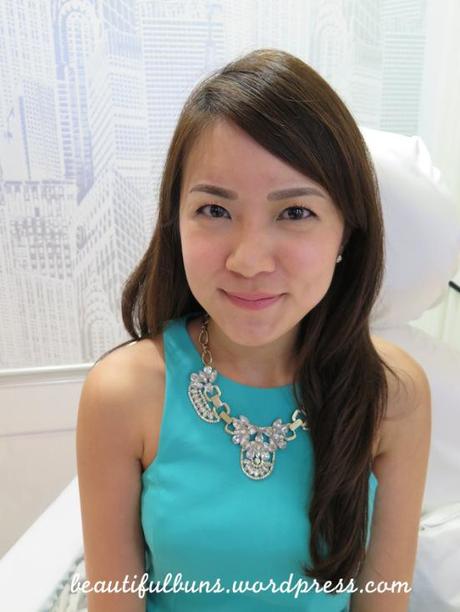 The whitish portions around the brows will fade – it's the effects of the numbing cream. Otherwise, she looks pretty damned good, with such a natural finish. Imagine how awesome she'll feel the next day (and the few months after) when she just has to leave the house without having to fuss over drawing her brows.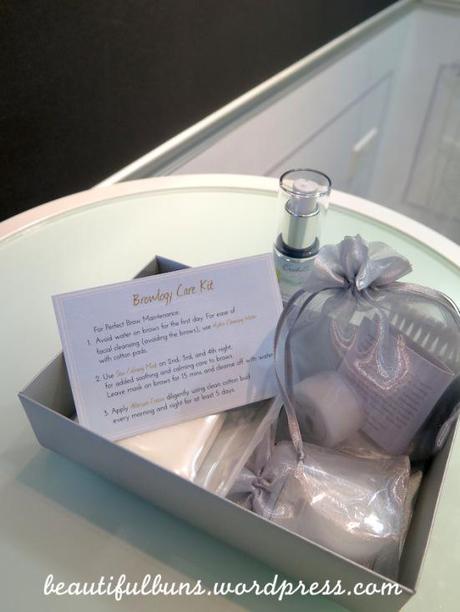 This is the Browlogy Care Kit with after-care instructions
Erabrowlogy (60 minutes/ session) costs $1,314 and includes the following:

Brow Prep Mask x 4
Erabrow Design
Semi-permanent Colouring Service x 4
Browlogy Care Kit x 4

For those who've embroidered/tattooed their brows previously, fret not, there's a shape and color correction service here as well. It's called Erabrowlogy Redesign & Change (60 minutes/ session). It costs $1,241.20 onwards and includes the following:

Brow Prep Masks
Erabrow Design
Colour Correction
Semi-Permanent Colouring Services
Browlogy Care Kits

Note that there's an additional surcharge of $214 per package if you wish to have a Master Artist do your eyebrows.

SPECIAL! If you're interested in doing Erabrowlogy, 5 lucky readers will be able to get a 20% discount voucher (redeemable from 1 April to 30 June 2014). Simply email in to [email protected] telling me why you want to do eyebrow embroidery, and include your name, email address, mobile number and the last 5 digits of your IC number.Winners will be selected on 26 March.
Now it was my turn to try out another service of theirs – the Erabrow Design. The 20-minute service includes a face shape and eyebrow analysis and a tweeze,trim and design service for $50 ($29 for first trial!)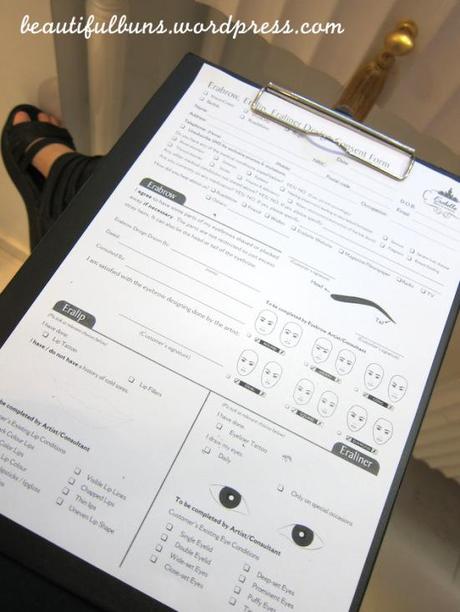 Filling up the form first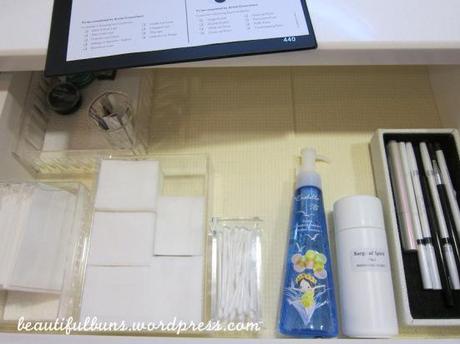 The drawer of tools that will be used for my Erabrow Design service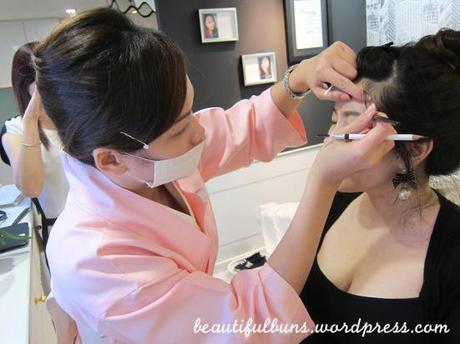 My therapist Elle did the face analysis and since I have a long-oval face, I had to have something with a softer arch.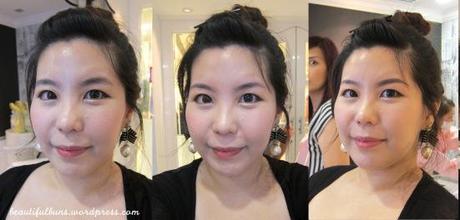 Not the most flattering photos of me, but focus on the brows instead. Left: My natural brows without doing anything, Middle: My brows after trimming and tweezing, and Right: My brows after being pencilled in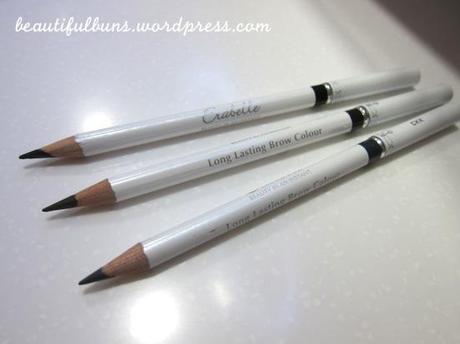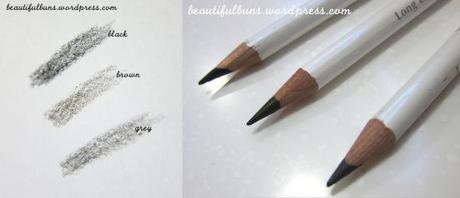 My brows were done in brown to match my hair colour, but there are also 2 other colours – gray and black.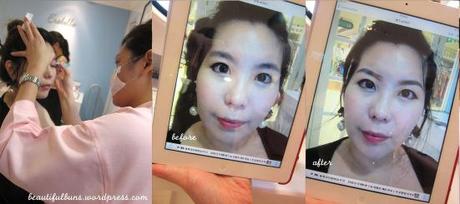 See how better defined my brows are now?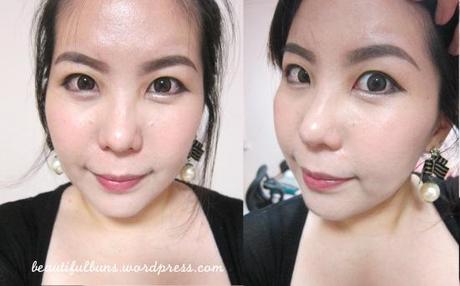 And ta-dah! My selcas of my Erabrow Designed-brows

Erabrow Design (a 20-minute session) costs $50 ($29 for first trial!) and includes a face shape and eyebrow analysis, a tweeze, trim and design service according to your unique face shape.

To find out more about Erabrow (and to show 'em some love), visit Erabelle's facebook page (https://www.facebook.com/ErabelleSG)
Erabelle outlets can be found at:
Bugis: 200 Victoria Street #02-05 Bugis Junction, Tel: 68831151
Bedok: 799 New Upper Changi Road #03-27 Bedok Point: Tel: 6753 2322
Erabelle Prestige outlets can be found at:
Orchard: 103 Penang Road #01-06 to 11 VisionCrest, Tel: 6836 8388
VivoCity: 1 Harbourfront Walk #02-01/02 VivoCity, Tel: 6376 8336
—
-This is a sponsored post-
0.000000
0.000000