Since my last post on all of the awesome new beauty items out there, I have happened across even more that would make great gifts.  I will warn you that some of these are a bit on the expensive side, so save them for your best friend, mom, sister or perhaps for yourself.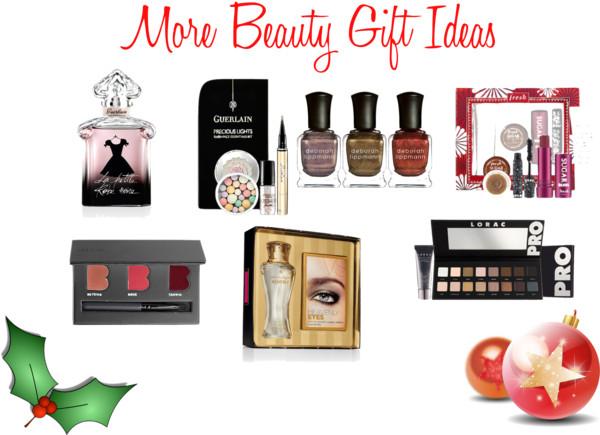 Gift Ideas by kristen-noel-williford featuring lorac makeup








1.) Guerlain La Petite Robe Noire
If you have to buy a gift for someone that appreciates an unique scent, this is the one.  It has notes of black cherry, licorice and black tea.  I find that it has a slight powdery scent and it lasts a long time on me.  Plus the bottle would look stunning on a vanity or counter.  A small bottle costs $64.

2.) Guerlain Precious Lights Radiance Essentials Kit
For $57, you get three of Guerlain's best products.  I got this for myself and love it.  If you need/want a subtle glow or just want to try Guerlain, this is a great set.  You can find this fabulous trio on Sephora's website.

3.) Lorac Pro Palette
I have been raving about this palette since I got it.  It is just that good.  It comes with 16 gorgeous and easy to wear shades, 8 of which are matte and the other 8 are shimmery.  The quality is perfection, too.  You also get a mini Lorac Behind The Scenes Eye Primer, which is amazing.  This palette is $49.
4.) Victoria's Secret Heavenly Makeup and Fragrance Gift Set
I'm not a huge fan of Victoria's Secret fragrances, but Heavenly I do like.  Especially when it comes with eyeshadow and if the kit is only $19.  I know Heavenly is one of their most popular scents, and their shadow is pretty good, so this would make a great, inexpensive gift for the Victoria's Secret lover on your list.
5.) Deborah Lippman Rock This Town Set
This is for the polish aficionados.  This set comes with three shimmering shades: Moon Dance, Chain Reaction and Phoenix Rising.  It is $42 at Neiman Marcus and Nordstrom.
6.) Fresh Sugar Berry Merriment Set
This is a set I would not mind receiving.  It contains four of Fresh's most beloved and sought after products, including the Soy Face Cleanser, Sugar Lip Polish, Berry Lip Balm and Supernova Mascara.  It would be a great option for a Fresh lover or someone that wants to try the best the brand has to offer. The price is $28 at Sephora.
7.) Bite Beauty Luminous Creme Lipstick Palette
This cute little palette is only $10 and comes with a nude, pink and berry shade.  This would make a great stocking stuffer for any beauty lover on your list. It is compact, travel friendly and has the most essential shades. It also comes with a lip brush and perfectly sized mirror.  Oh, and another fab FYI, these lippies have resveratrol which helps fight off aging and is found in red wine.  You find this cute palette at Sephora.
  Which of these 7 items would you like to see under the tree or in your stocking? I would have to go with La Petite Robe Noir.