Review of:
Estée Lauder Double Wear Light
Price:

£27.50

---

Reviewed by:

Rating:

4

On

February 3, 2013

Last modified:

March 18, 2013

---

Summary:
More Details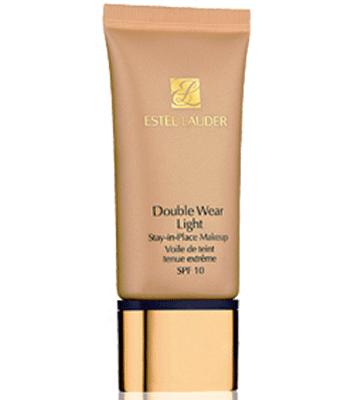 I am a huge fan of Estée Lauder's Double Wear foundation. It covers amazingly well and it lasts all day (well, nearly), leaving beautifully smooth and flawless skin; even on my horribly oily T-zone. This in itself is a miracle, but sometimes I don't always need to have the full coverage of Double Wear if my skin is looking clear, or if I don't need to look completely flawless. On occasions like that, which thankfully are surprisingly often, I turn to Estée Lauder Double Wear Light.
It's a foundation which, as the name suggests, is a lighter version of the normal Double Wear. It's an 'everyday foundation' which is easy on your skin and looks really natural. This foundation is a liquid which isn't quite as thick as Double Wear, but it actually glides on the skin far better because of that. It doesn't completely cover your skin and all of your 'flaws' or 'imperfections', or even freckles, but it does cover them enough to make them stand out less than they would have otherwise. This in itself is why Double Wear Light looks even more natural than Double Wear because it doesn't completely get rid of your natural facial shadows. As such you are left with a more natural look, and even the finish matches that slightly. Unlike Double Wear which gives a matte finish, Double Wear Light does make your skin look more matte, but still adds a slightly shine too. It's hard to describe, but it gives a more natural look by providing the natural radiance of bare skin. It naturally highlights your cheekbones, forehead and nose, but it definitely doesn't look oily or greasy. It's subtle, but obvious enough to not make you look like a Barbie…
As mentioned earlier, Double Wear Light spreads really well and you honestly don't need very much to cover your entire face and neck. It comes in 6 shades, but they are quite versatile as the colour isn't as intense as the Double Wear foundation. This means that it will suit a lot of skin tones, from light to medium, blending into your natural colour. What's more, on the most part if does last. It doesn't last quite as long as Double Wear but it does stay put for about 6-7hrs before my nose begins to get a little bit oily. After that it does struggle to contain my T-zone and I end up needing to top up with pressed powder for the rest of the day.
I do like this foundation, although it is a little expensive at £27.50 for 30ml. That will last you quite a while, especially as the foundation doesn't run, even in humidity, so you won't be reapplying the foundation several times daily. It doesn't clog pores either, and skin is left smooth and clear when the foundation is on and also when it's been removed. My only complaint is that I would like the foundation to last a little longer and to control oil a little better. Otherwise I'm very pleased with this lightweight and comfortable foundation.