Last night, or more like very early this morning, I did a post on MUFE's eyeshadow in #5.  I have not worn this in a few weeks, but I did today.  It is a very vibrant color, but I did something more toned down yet still fun for summer.  I also used a different primer than I previously used with the MUFE shadow, and I am happy to say that it stayed on better :D Too Faced's Shadow Insurance is the best primer than I have tried so far.
Products used:
Too Faced's Shadow Insurance
Urban Decay's Fun Palette (Sin and Baked)
MUFE eyeshadow #5
Clinique High Impact Mascara in Black
The Body Shop Carbon Brown Eye Definer
For starters, I used Sin as an all over base and applied the MUFE shadow in the crease and blended it out.  I wanted a subtle extra pop, so I applied Baked on the lid and along the lower lash line and applied #5 on top of it.  I used the Carbon Brown Eye Definer on my waterline to make my eyes look more defined.  To finish off the look, I applied the High Impact mascara on my top and bottom lashes.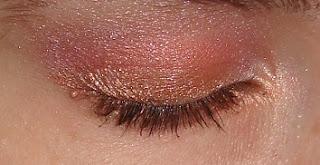 Also, if anyone is interested, here is the link to my latest article for Interactive Biology.