If you have already read my last post, you know I am not a huge fan of the Too Faced Return of Sexy Palette.  But I did manage to get two looks out of it, and this one turned out the best.  I used "The Bombshell" portion of the palette to do this look.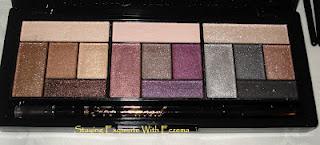 Bombshell collection is on the far right.

Steps:
1.) 
I applied Too Faced Shadow Insurance to my lid and let it sit for about a minute.
2.) I applied 7 Year Itch all over my lid.  7 Year Itch is the light silvery beige on top of The Bombshell collection.
3.) Then I applied Maneater, which is a lovely rose gold, onto the lid.
4.) Next, I applied Hollywood into the crease and lower lash line.
5.) To finish off the look, I applied Sephora's Lash Perfecting Primer and let it dry for a minute.  Finally, I applied Maybelline's Mega Plush mascara.