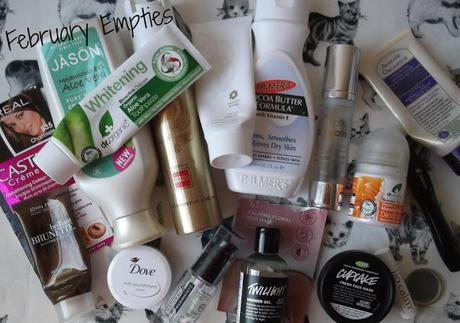 I can't believe how many products I've gotten through
again
this month! To be fair, the vast majority of these I started months ago. I just happened to finally finished them off this month!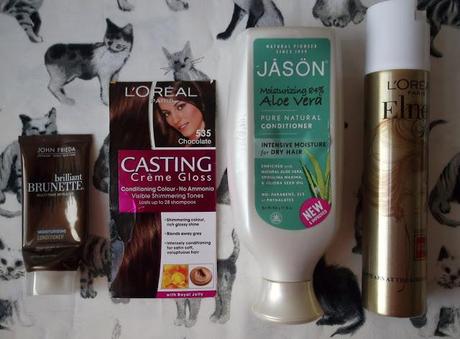 John Frieda Brilliant Brunette Moisturising Conditioner
I finished off the shampoo that goes with this last month and I'm glad to be done with the conditioner now too. As with the shampoo, the smell was too artificial for me and I still haven't managed to find out for sure if John Frieda are cruelty free or not. 
Repurchase? No.
L'Oreal Casting Creme Gloss in 535 Chocolate
I've been using this semi-permanent hair color for about a year now and it really is fantastic. The color is true to the guide colour, it's really quick and easy to use, and it leaves my hair feeling in better condition. Sadly L'Oreal are fairly ruthless animal testers, so no matter how good this product is I'll never repurchase it.
Repurchase? No.
JASON Moisturising 84% Aloe Vera Conditioner
This is my holy grail conditioner. Yep, it's that good! It has transformed my horrendously dry and damaged hair. In fact my hair is almost back to how it was when I was 13, before I abused with straighteners and hair dye! You can read my full review of this product
here
Repurchase? Yes, forever!
L'Oreal Elnett Normal Hold Hair Spray
It's Elnett hairspray. My Mum uses it. My Gran uses it. Cheryl Cole uses it. Sadly, as mentioned previously, L'Oreal are animal testers. I won't use any more products from them...because animals are worth it! See what I did there? Har. Har.
Repurchase? No.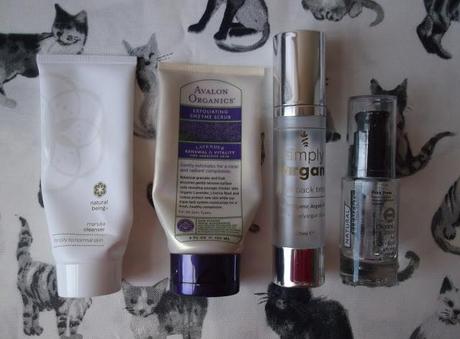 Natural Being Manuka Cleanser
Love the brand but not the product. I reviewed this in full very recently, which you can read here.
Repurchase? No.
Avalon Organics Exfoliating Enzyme Scrub
I love a good, gritty, takes-half-your-face off exfoliator and this Avalon scrub is one of those! I loved the lavender scent, and the texture of this but I'm trying to be more gentle with my sensitive, oily skin at the moment. Read a full review of this product
here
Repurchase? No.
Simply Argan Oil
I received this product in
this
Amarya Beauty Box and at first I really didn't like it. I tried to use it as a hair styling product in the same way you'd use Moroccan Oil or Macadamia Oil, with disastrous results. Recently I've been putting it on my hair before I go to bed and washing it out in the morning, and it's worked a treat as a once a week, intensive conditioning treatment.  You can also use it as a moisturiser for your skin but I definitely prefer this for my hair. 
Repurchase? Yes.
Natural Elements Spot Serum
I've been using this spot treatment for years. It's gentle but effective, and it's cruelty free. It has everything you would expect to see in a spot treatment; witch hazel, aloe vera, tea tree and no nasties like parabens or petrochemicals. I used this at night time because it does leave a flaky residue on your skin which doesn't look too great under make up! This is great for treating fully fledged spots, but it isn't so good at preventing them in the first place. Unfortunately now I'm suffering from those annoying bumps that sit under the skin rather than proper spots, so I might have to move on to a different kind of spot treatment.
Repurchase? Not any time soon.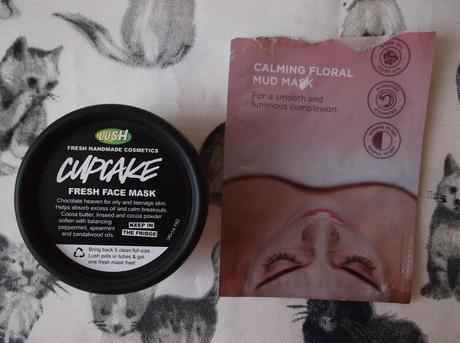 LUSH Cupcake Fresh Face Mask
I love LUSH's fresh face masks, but this has been my least favorite of the ones I've tried so far. It's still great, it's just not a perfect match for my skin. You can read a full review
here
. 
Repurchase? No
Superdrug Calming Floral Mud Mask
I received this mask at a blogger event a while ago. It isn't designed for oily skin like mine, but I still thought it was excellent. The rose smell was an old lady rose smell rather than a modern rose, but other than that it was fab. It left my skin feeling cleaner, smoother and softer. It was a pleasure to use. 
Repurchase? Not this one, but definitely one designed for my skin type. They're cruelty free and 99p! I'm a poet and I wasn't aware of it (groan).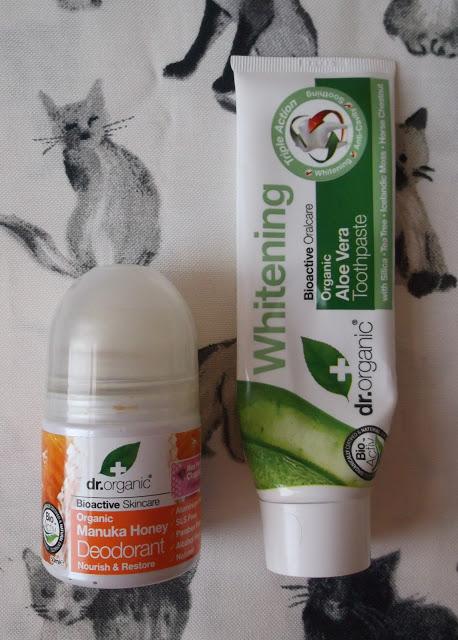 Dr Organic Manuka Honey Deodorant
A decent cruelty-free deodorant is hard to come by, but this one is readily available at most Holland & Barrett stores. This isn't the best cruelty-free deodorant I've ever tried but it's good for picking up when you're having a deodorant emergency. You can read a full review
here
Repurchase? Only in a deodorant emergency. those very frequent deodorant emergencies!
Dr Organic Whitening Aloe Vera Toothpaste
Cruelty-free toothpaste is also quite hard to come by, and again this one is available from Holland and Barrett. It works as well as any other mainstream toothpaste I've tried, but it does have a much milder taste. Personally I prefer this though to an artificial mint taste.
Repurchase? Yes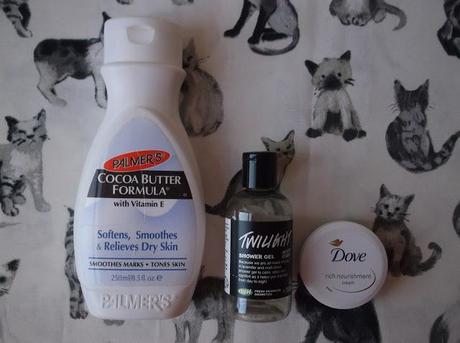 Palmer's Cocoa Butter Formula Body Cream
A classic if ever there was one! I've had this bottle for a long time. I probably should have just thrown it out but I used up the little bit that was left in it despite it most likely being past its best. I can't find a definite answer as to whether Palmer's are cruelty free or not. I'll assume they're not until they tell me definitively otherwise. 
Repurchase? No. As much as I love slathering myself in stuff that smells like chocolate.
LUSH Twilight Shower Gel
This was a limited edition Christmas shower gel which I reviewed in my
Christmas at LUSH
post. This shower gel was perfect for an evening shower person like myself, as the gorgeous lavender scent helped me to unwind after a hard day at work.
Repurchase? No. This is no longer available.
Dove Rich Nourishment Cream
This is another product which I bought a long time ago, and should really have thrown out rather than finishing up the last tiny morsels! The size of this body cream is really handy for travelling, which I think is why I bought it in the first place. Sadly Dove are a Unilever brand and Unilever conduct animal testing.
Repurchase? No.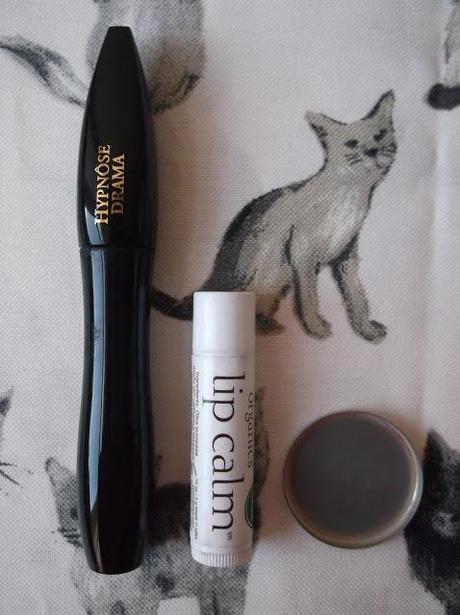 Lancome Hypnose Drama Mascara
This has been my go-to mascara for years and I love it. One of my very first posts on this blog was a review of this mascara, which you can read
here
. Sadly Lancome are not cruelty free.
Repurchase? No.
John Masters Lip Calm
I received this product in
this
Amarya beauty box. It was the first lip balm of it's kind that I'd tried, and it blew the likes of Vaseline, Carmex and Nivea's crap filled lip balms out of the water. I've tried a few similar lip balms since and this isn't the best I've tried, but it did start my love affair with more natural lip balms.
Repurchase? No.
Benefit Boi-ing in Shade 1
I've been using this Benefit concealer for years and years. It covers my dark circles really well, is long lasting and doesn't crease too much. Sadly Benefit are not cruelty-free. They have an infuriatingly cryptic animal testing statement which leads you to believe that they might be cruelty free, but I assure you they are not. 
Repurchase? No. I'm currently testing out a fantastic cruelty-free dupe!