Welcome to the land of carb-less joy. Well, joy might be going a little far but here's my low fat carb-free breakfast.
Breakfast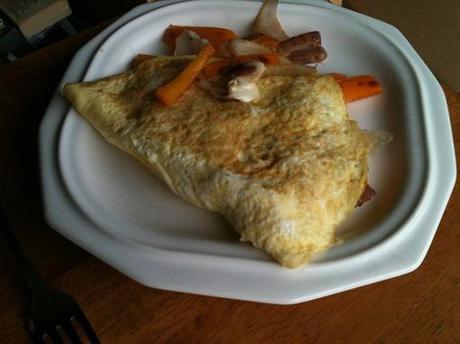 I made an omelet with 1 whole egg and 2 egg whites stuffed with orange peppers, red onions and reduced fat pepper jack cheese. Yum-o.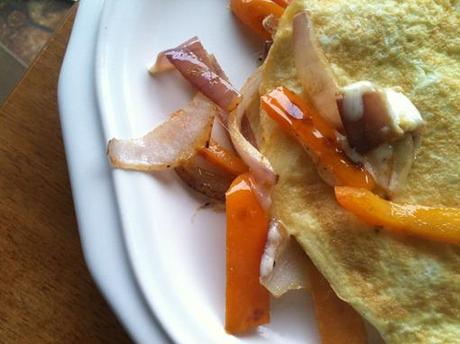 My secret is to sauté the peppers and onions in a little evoo with salt, pepper, and  onion powder. Extra virgin olive oil was a necessity today since on the South Beach Diet I was supposed to have some each day and I didn't get any yesterday.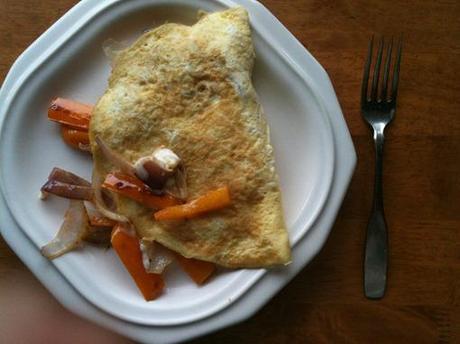 Maybe we should recap Day 1 on the beaches in Florida. I was surprised because supposedly following a higher protein diet you should feel less hungry simply because protein is so much harder to digest. I was hungry almost all day yesterday. I did do a pretty good workout yesterday morning so I think my body just really wanted those quick sugary carbs for energy. Hopefully today will be a little better on the hunger scales.
I'm going to be honest, I really do love my carbs. I think this might get a little hard.
Fitness
So I don't know what happened. Yesterday towards the end of my workout I stood up from doing straight leg lifts, the triceps workout, and my lower back suddenly hurt. Strangely, I didn't feel a pull or the moment something was injured. Because I didn't feel the injury at the second it happened it's probably just a muscle strain.
It was okay most of yesterday, it hurt but not too bad, but now this morning it's really painful. I can tell the pain is muscular and I've had some lower back problems since a long jump injury in high school, so I'm not worried or anything but I'm concerned about getting to classes. The only place that doesn't hurt is sitting in the reclined position on my sofa.
Have good thoughts that I get to class…