Sanura is going to be 11 years old in 6 days. It's crazy how fast they grow up isn't it?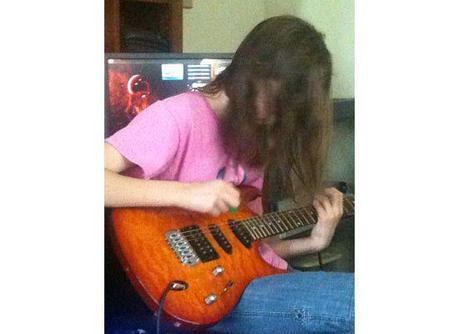 I think I share more activities that my little ones do because there is so much out there to do with little ones. Crafts, toys, and learning games are limitless. Sometimes it can be hard to come up with fun activities that will still be educational for Sanura. She enjoys art, cooking, and science experiments and those are all fun activities that I think many preteens would enjoy.
Firstly, have you seen the game show Minute to Win It? We don't have any tv channels anymore but when we did the kids and I loved watching this show. There are lots of fun activities on there that your kids could try and you could definitely incorporate some lessons in with those activities. We played some Minute to Win It games at Sanura's last birthday party and the kids did enjoy playing.
Science Activities for Preteens:
Sanura is learning about the circulatory system in science right now and this experiment called Plasma soup would give a great visual to her lesson so I think we'll be giving this one a try.
Math:
Play Cards! Sanura and I love playing card games and you can incorporate some great math lessons with cards. One of our favorites is the game war but possibilities are endless. Teach them your favorite game or learn a new game together.
Bingo is also fun for the kids. Just calling out the numbers would be too easy but you could make the call cards math problems and the cards they're marking off would have the answers on them. Whatever you are needing to work on whether that is multiplication, division, fractions…again endless possibilities.
Cooking! Let your child hop on the internet and help them pick out a recipe to make. It's a great way to work on fractions, following directions, and an important life skill all at once.
This create a graph web site looks really fun, we haven't had a chance to play with it yet but I think it's something Sanura will enjoy.
Writing:
Sanura does not like writing to my dismay because it was always my very favorite subject in school and as an adult. I love to write and I'm hoping to cultivate a joy for writing in Sanura. There are a couple of times I have seen her light up about writing.
The first time was when I encouraged her to write her very own children's book complete with illustrations. I told her the final draft needed to mistake free and illustrated. She was excited! She wrote a rough draft, I helped her proofread and it ended up being written a few times before the final draft. Finally after working hard on her story she got to sit down and draw the pictures. She absolutely loved it and was very proud of the finished product!
The second time was when I asked Sanura to try incorporate as many of her spelling and vocabulary words into a short story as she could. I think it helped sprout off some ideas for her and she had a page of words in no time even though it would normally take her an hour.
Spelling and vocabulary have been an important part of our writing time, Sanura really enjoys practicing her spelling words on Spelling City
This activity caught my eye but we haven't tried it yet.
Arts:
All of my children love art, I am a terrible artist but as I've said, my husband is amazing so they must get that love of art from his side of the family. Aside from checking out your local art center (Sanura took a comic book making class that was pretty sweet and Nevaeh went to a thing called Messy Mornings where the kids go and experiment with all the art mediums) most preteens will still enjoy drawing, painting, and sculpting with clay. Especially if mom or dad sits down with them to do it.
Beads and necklace making materials are always a hit around here too and can be a great fine motor builder for the little siblings.
If you know how to play an instrument teach your child. Glen is teaching Sanura how to play guitar and it is a really fun and bonding time for them.
Education.com has so many great activities to do with kids of all ages so check that out and Family TLC has lots of ideas sorted by age as well.
I hope this may give you some ideas of activities to share with your children. I will have lots more coming since I am always looking for creative ideas to work with Sanura during our school time!