Review of:
Edinburgh Fringe 2013 - Out of the Blue
---

Reviewed by:

newwithhashtags

Rating:

4

On

August 11, 2013

Last modified:

August 11, 2013

---

Summary:
More Details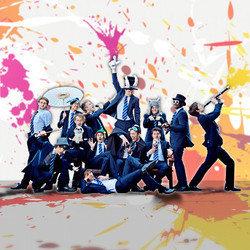 Courtesy of www.edfringe.com
Venue: Assembly George Square
Time: 14:00
Duration: 50 minutes
Type: Music, comedy
Andrew:
This was a really enjoyable show with some great comedic elements to it. These guys are really skillful and I like how they did their own take on some familiar songs that we all recognize. I'd recommend this show to anyone.
Kath:
This is one of my favorite shows of the whole fringe! There's nothing like some posh Oxford students in suits pretending to get 'down with it'! I liked the selection of songs they had but there were a fair few I didn't know. I think they would have been best sticking to more popular songs as these seemed to really get the audience going.
Otherwise, great show. It gave me goosebumps which was a pleasant surprise. I do think that the lighting set-up could be improved though as it was quite basic and unimaginative… I'd still recommend the show though, and it's perfect for the whole family.