Review of:
Daniel Sloss: Stand Up
Price:

£14.50

---

Reviewed by:

newwithhashtags

Rating:

4

On

August 11, 2013

Last modified:

August 11, 2013

---

Summary:
More Details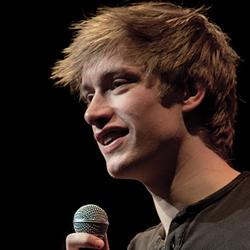 Courtesy of www.edfringe.com
Venue: Venue150 @ EICC
Time: 20:30
Duration: 1 hour
Type: Comedy
Andrew:
This is the third time I've seen Daniel Sloss, the second at Edinburgh Fringe, so I've got a fairly good idea of what to expect from the show, and he didn't disappoint. I was laughing all the way through.
Kath:
Daniel Sloss is crude, slightly disturbing and a chronic swearer, but I like him and his style a lot. He dares to speak about typically unspoken things, pushing the boundaries of acceptable social topics – more so than some other comedians I've seen. I think that's what makes him so funny; he dares to say these things. Even better is that he doesn't really pick on the audience and his topics are entertaining. Definitely worth seeing him!
He's got a similar style to Russell Howard, except pushed to a ruder dimension. Young and witty, be sure to include Daniel Sloss in your fringe line-up.